I returned home from a few days at our lake house and found this in my fruit bowl:
Oops. Forgot to take the bananas with me. They were way past their prime. My philosophy is, when life gives you rotten over-ripe bananas, make banana bread! King-Man loves banana bread, and it's a good way to use up those bananas. (You can also put the bananas in the freezer for future baking.)
A healthy makeover. Many traditional banana bread recipes are high in fat and sugar. In this recipe, I substitute applesauce for some of the fat and sugar and use all whole grains except for a half cup of white flour to add a little lightness. The walnuts and oats give it added nutrition and flavor; the bananas add more nutrients plus moisture and sweetness. Compared to a traditional banana bread, this one is a heartier, denser version; but it's moist, nutritious, and delicious.
You may notice that many of my recipes include oats (Oat Crusted Chicken, Oatmeal Cookies, Granola). That's because of the good flavor of oats, but also because oats are loaded with nutrition.
Did you know? Oats and oat bran have multiple health benefits. They are good for your heart and can lower cholesterol, can help control swings in blood sugar, are thought to reduce the risk of cancer, can reduce blood pressure, and help with weight control and athletic performance. Wow. That's a lot of nutrition packed into one ingredient. Go, oats!
Nutritional Information for 1 serving (10 servings/slices per loaf; 3.88 oz per slice): 245 calories, 10.2g fat, 33.3g carbs, 4.8g fiber, 13.3g sugars, 6.9g protein; Weight Watchers PointsPlus: 6 points per serving
Make ahead tip:
Although this recipe is easy to make, it does have quite a few ingredients. So, when I make up a batch and am getting all of that stuff out of my pantry, while I'm at it I fill a couple of jars with the dry ingredients needed to make future batches of banana bread. That way all I have to do next time is add the wet ingredients to the jar of dry ingredients, and I have quick banana bread. I also give these jars of banana bread mix as gifts. You can find the instructions for assembling dry mix jars in my post, Make A Banana Bread Mix Gift Jar.
Dry Buttermilk Powder. Because I like to make up jars of the dry mix in advance, I use dry buttermilk powder instead of fresh liquid buttermilk. I don't use buttermilk often enough to have it regularly on hand in my fridge. If I buy it for a recipe, it seems I almost always end up throwing a lot of it away unused. The long shelf life of dry buttermilk powder solves that problem, along with making it easier to include in a jar of dry mix for future use or gifts.
Step-by-step photos for making Banana Oat Nut Bread
Step 1. Assemble the ingredients: 3-4 ripe bananas, buttermilk powder, oat bran, salt, walnuts, whole wheat pastry four, white flour, honey (optional), baking soda, apple sauce, vanilla, old fashioned rolled oats, cinnamon, brown sugar, canola oil.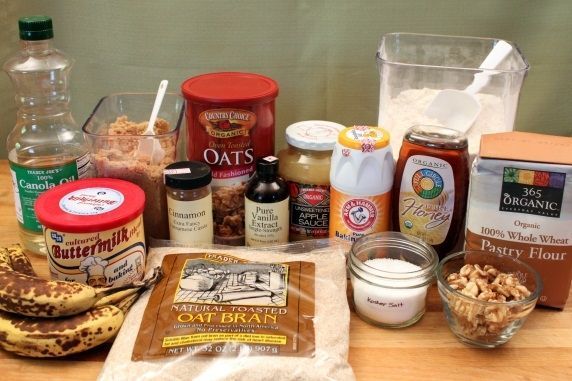 Step 2. In a large bowl, whisk together white flour, whole wheat pastry flour, buttermilk powder, oat bran (found with hot cereals in my grocery store), brown sugar (you can substitute honey for half of brown sugar, if you prefer, adding it with the wet ingredients), baking soda, salt, and cinnamon. If you want to use liquid buttermilk instead of the powder, add it in place of the water with the wet ingredients.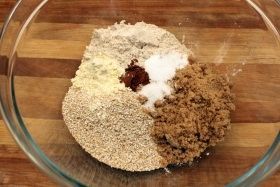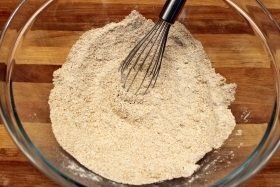 Step 3. Add rolled oats, stir, and make a well in the center.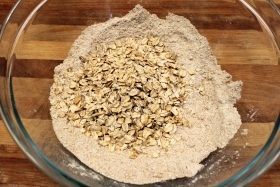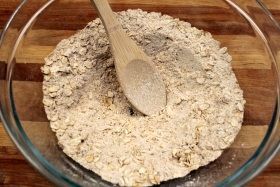 Step 4. Crack eggs into a separate bowl. Whisk them.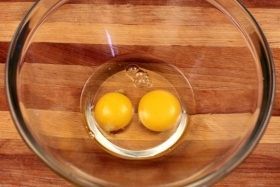 Step 5. Add water, canola oil, vanilla, and applesauce to the eggs. (If you're using liquid buttermilk, add it here in place of the water.)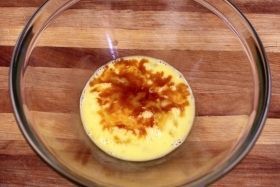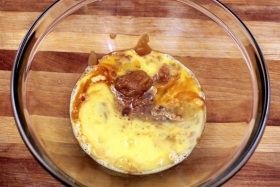 Step 6. Whisk those together. Use a fork to mash the bananas on a plate.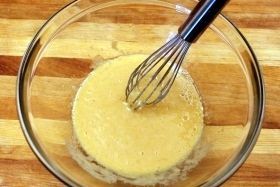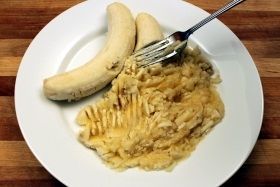 Step 7. Add the mashed bananas to the wet ingredients and mix.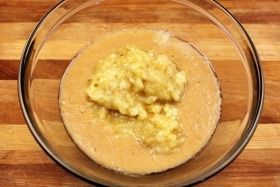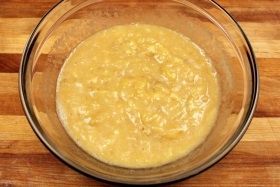 Step 8. Add wet ingredients to the well of the dry ingredients. Stir until just blended and the dry ingredients are moist throughout. Don't over mix.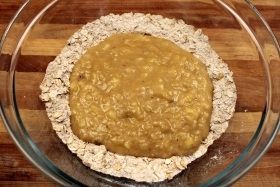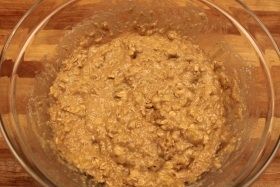 Step 9. Add nuts and fold them into mix.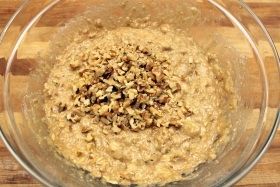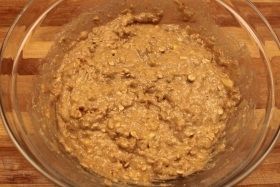 Step 10. Pour mix into loaf pan that has been sprayed with cooking oil. Sprinkle nuts on top.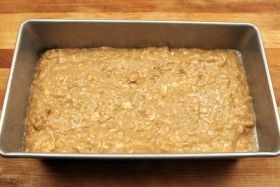 Step 11. Bake for approx. 50-60 minutes--until a toothpick inserted in center comes out clean. Place pan on a cooling rack for 15 minutes.
Step 12. Remove from pan and let cool completely.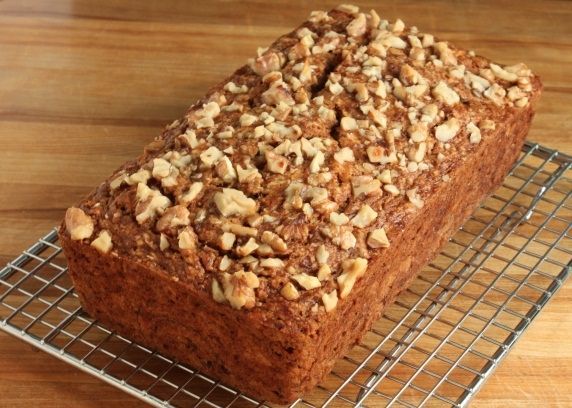 This makes a great breakfast bread, mid-morning snack, or take-along treat to share with co-workers or friends.
Slice, eat, and enjoy! It's moist, wholesome, and delicious.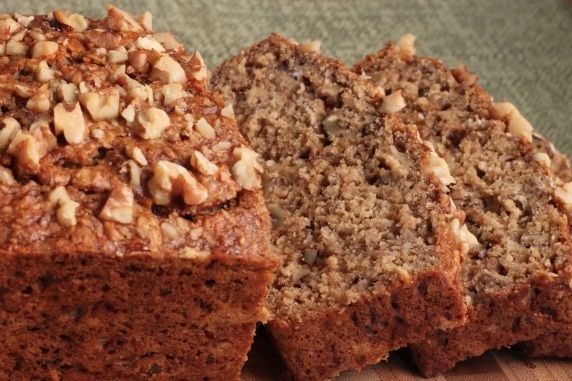 Make it a yummy day!
You may also be interested in this post:
Make A Banana Bread Mix Gift Jar
Banana Oat Nut Bread
By Monica Servings: 8-10 slices
1/2 cup white flour
1 tablespoon + 1 teaspoon dry buttermilk powder*
1/2 cup whole wheat pastry flour
1/2 cup oat bran
1/2 cup brown sugar (optional: substitute 1/4 cup honey for 1/4 cup of the brown sugar)
1 teaspoon baking soda
1/2 teaspoon salt
1/2 teaspoon cinnamon
3/4 cup rolled oats
2 eggs, beaten
1/3 cup water*
2 tablespoons canola oil
1/2 cup unsweetened applesauce
1 teaspoon vanilla
1-1/2 cups mashed ripe banana (3-4 bananas)
3/4 cups chopped walnuts, divided (1/2 cup for mix, 1/4 cup for top)
Preheat oven to 350F and spray a loaf pan with cooking spray. Combine white flour, buttermilk powder, whole wheat pastry flour, oat bran, brown sugar, baking soda, salt, cinnamon, and oats together in a large bowl. Combine eggs, water, oil, applesauce, vanilla, and bananas in a medium bowl (if using honey, add it with these wet ingredients). Make a well in center of dry ingredients. Pour wet ingredients into the dry ingredients and stir gently just until the dry ingredients are moistened. Fold in 1/2 cup walnuts. Spoon batter into the prepared pan. Sprinkle top with 1/4 cup walnuts. Bake for 50-60 minutes, until a toothpick inserted in the center comes out clean. Cool on a wire rack in the pan for 15 minutes. Remove from pan and cool completely.
*1/3 c. liquid buttermilk may be substituted for the dry buttermilk powder and water.

Nutritional Information for 1 serving (10 servings/slices per loaf; 3.88 oz per slice): 245 calories, 10.2g fat, 33.3g carbs, 4.8g fiber, 13.3g sugars, 6.9g protein; Weight Watchers PointsPlus: 6 points per serving