I came up with this recipe a few years ago after enjoying something similar at a local restaurant. It makes a big batch (10 cups of the turkey mixture); so it's great to freeze and have on hand for quick future meals. When we entertain, I also love serving this as a buffet meal or an appetizer along with a variety of toppings. It's versatile and healthy. Skip the brown rice and it's about as low carb as it gets.
Weight Watchers Points Plus - 4 points per 1/2 cup serving of the turkey mixture
I did all of my chopping in the food processor as shown in my photos below; but, of course, you can chop and mince by hand, too.
Step-by-step photos for making
Asian Turkey Lettuce Wraps
Step 1. Assemble the ingredients: hoisin sauce*, soy sauce*, vegetable or grapeseed oil, dry sherry, hot chili sauce (I use Sriracha*), sesame oil*, bamboo shoots*, water chestnuts*, carrots, green onions, fresh ginger, Boston bibb lettuce (or endive for appetizers), ground turkey
*Find these ingredients in the Asian aisle of your grocery store.
view on Amazon: Huy Fong, Sriracha Hot Chili Sauce, 17 Ounce Bottle
Sriracha sauce, hoisin sauce (gluten free), bamboo shoots, water chesnuts, organic toasted sesame oil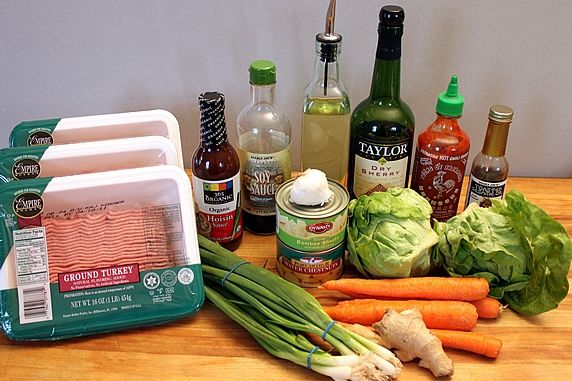 Here's a close-up of the back row of ingredients, so you can see them better.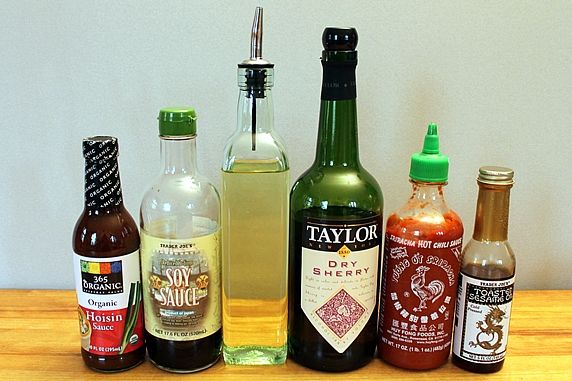 Step 2. Peel the ginger; the easiest way is to use a spoon. Chop it into a few pieces.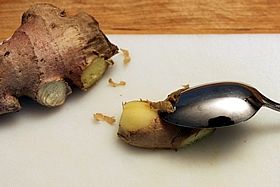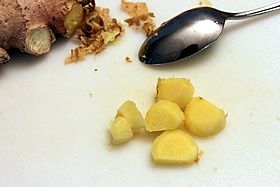 Step 3. Put the garlic and ginger pieces in the food processor and give it a whirl until it's all minced. Leave it in there for the next step.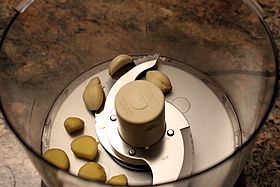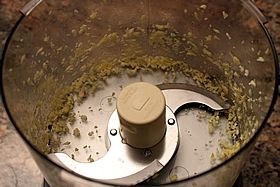 Step 4. Cut the carrots into chunks, add them to the food processor, and let it do it's thing until they're minced pretty small. Remove the carrot/garlic/ginger mixture to a separate bowl.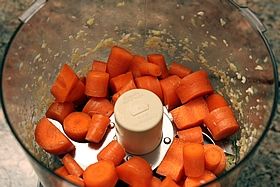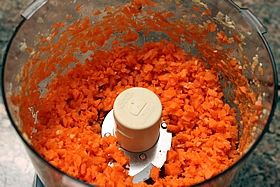 Step 5. No need to clean the food processor. Add the water chesnuts, bamboo shoots, and roughly cut green onions (both green and white parts). Whirl that around until minced.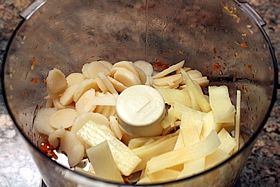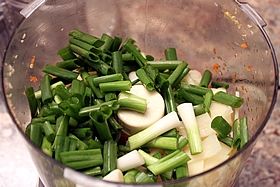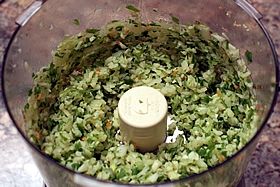 Step 6. Heat the oil in a large skillet; add the turkey and cook on medium high on the stove. While it cooks chop it up. I use the with the bottom of a flat spatula.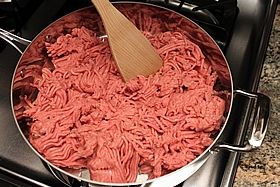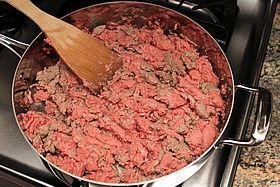 Keep chopping it up as it browns. Cook it until all of the pink is gone.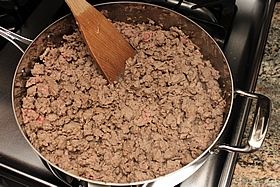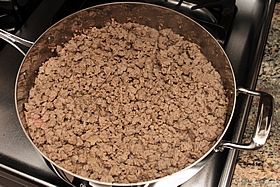 Step 7. Add the minced veggies all at once. Stir them in and cook 5-10 minutes.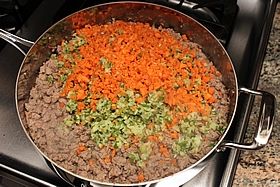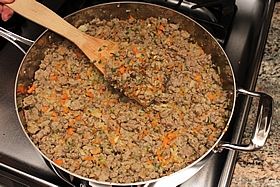 Step 8. Add all of the liquids - hoisin sauce, soy sauce, dry sherry, sesame oil, hot sauce. Give this a stir and cook until heated through, approx. 5 minutes.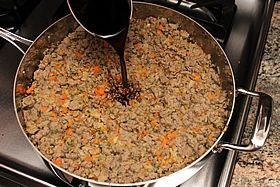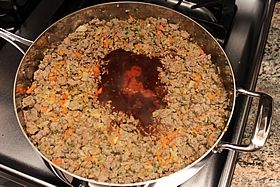 All done. It's saucy, flavorful, and delicious.
You can eat it right away, refrigerate it, or freeze some or all of it for later.
Freeze it. I put it in ziploc freezer bags - 2 cups of turkey mixture per quart size bag. Flatten it out, press out as much air as possible, and seal. Put it in the freezer on a tray to keep it flat. Once it's frozen, remove it from the tray and stack it in your freezer. It will keep for several months for an instant meal or appetizer when you need it. It reheats quickly in the microwave.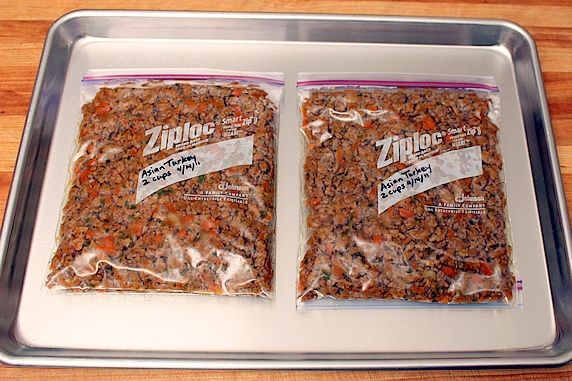 Serve it. I like to serve the turkey mixture family-style with lettuce leaves and brown basmati rice. Everyone assembles their own lettuce wraps.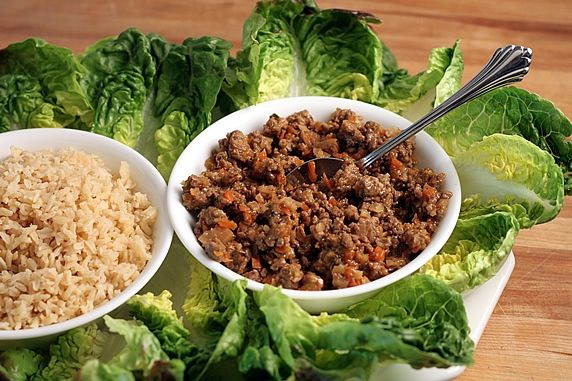 Top it.
I serve the turkey mixture and rice with a number of toppings for each person to add according to what they like. I prepare my toppings ahead of time in small covered bowls.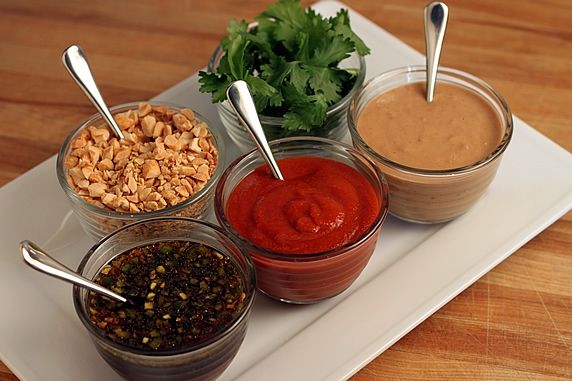 The above plate of toppings includes:
chopped peanuts
cilantro
Sriracha hot chili sauce (it's in the turkey mixture, but I like to add more on top)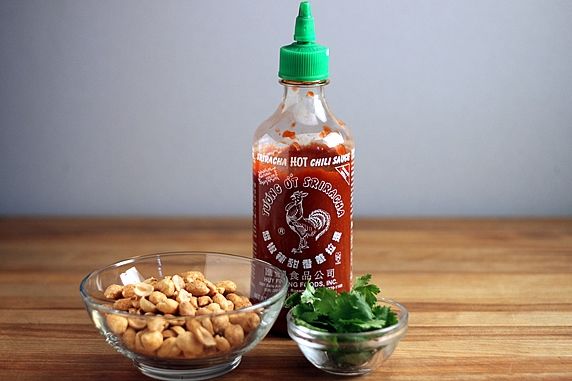 Asian Spicy Lime & Ginger Dipping Sauce (explanation/photos in this post)
Click to view & print Asian Spicy Lime & Ginger Dipping Sauce recipe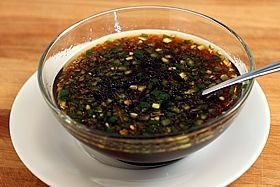 Asian Peanut Sauce - you can buy it or try my recipe:
Click to view & print Asian Peanut Sauce recipe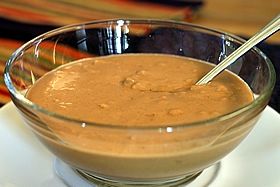 This is a great family-style meal or party buffet. Always a crowd pleaser.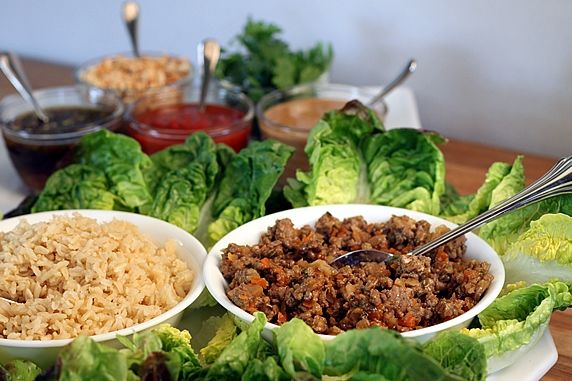 To make a serving, grab a lettuce leaf and add some rice and turkey. Garnish with whatever toppings you like. I've added Sriracha sauce and chopped peanuts to these.
That's the way I like 'em.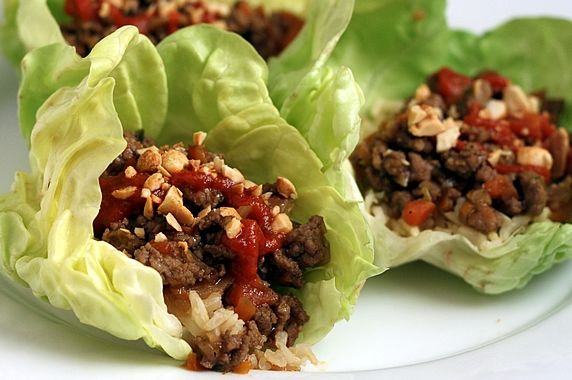 Roll one up and take a bite. Yum!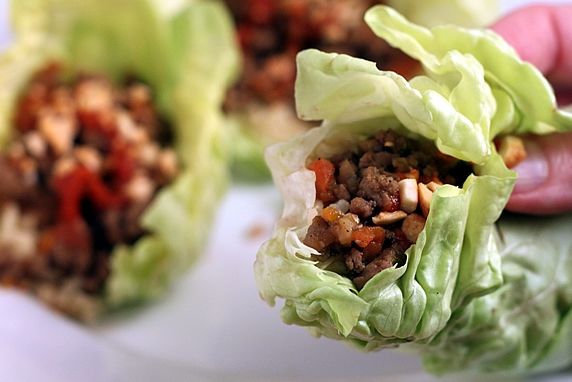 Appetizers? Easy! Use endive instead of lettuce for a perfect finger food size appetizer. Simply fill endive leaves with the turkey filling and add the toppings or let guests add their own.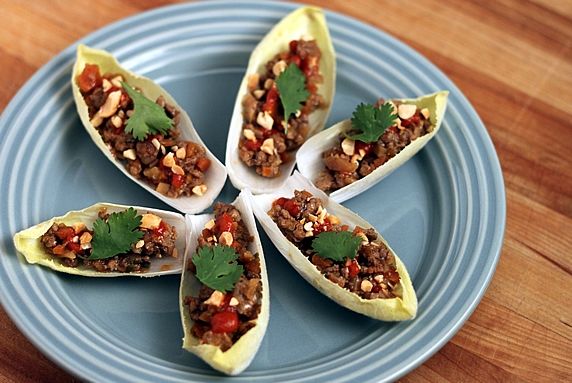 Make it a yummy day!
Asian Turkey Lettuce Wraps
By Monica Servings: 20 half cup servings
2 tablespoon vegetable oil
3 pounds ground turkey breast
1-1/2 inch piece fresh ginger, peeled (1 tablespoon minced)
3 garlic cloves (1 tablespoon minced)
4 medium carrots
10 green onions (white and green parts);
1 (8 oz) can sliced water chestnuts
1 (8 oz) can bamboo shoots
1 cup hoisin sauce
1/2 cup soy sauce
1/3 cup dry sherry
1 tablespoon sesame oil
1 tablespoon Sriracha or other hot chili sauce or paste
Boston Bibb lettuce (for a meal, allow 3-4 leaves per person); may substitute other lettuce with small, cup-shaped leaves
Brown rice, cooked (optional)
TOPPINGS (optional):
chopped peanuts
cilantro
Sriracha chili sauce
Asian Peanut sauce (recipe at www.theyummylife.com/recipes/16)
Asian Spicy Lime & Ginger Sauce (recipe at www.theyummylife.com/recipes/138)
MINCE THE VEGGIES: Vegetables may all be minced by hand; however it's easier to use a food processor (FP) if you have one. Process in this order: 1. mince the garlic and ginger together in FP; 2. chop the carrots into 1" chunks and add them to FP and process until minced; 3. remove garlic/ginger/carrots to separate bowl; 4. chop green onions into 2" pieces and add with bamboo shoots and water chestnuts to FP; process until minced.

COOKING INSTRUCTIONS: Add vegetable oil to skillet and heat on stove-top on med-high heat. Add turkey, cook until browned with no pink remaining; break apart chunks with spatula as turkey browns. Add minced veggies (garlic, ginger, carrots, onions, bamboo shoots, water chestnuts) and cook 5-10 min., until tender. In separate bowl, whisk together hoisin sauce, soy sauce, sherry, sesame oil, and chili sauce; add to turkey mixture. Stir and cook until heated through, approx. 5 minutes.

TO SERVE: Spoon rice and turkey mixture into a lettuce leaf. Add toppings, if desired. Roll the lettuce leaf and eat.
TO FREEZE: Add turkey mixture to ziploc freezer bags - 2 cups of turkey mix per quart size bag. Flatten the bag, press out as much air as possible, and seal. Put in the freezer on a tray to keep it flat. Once frozen, remove from tray and stack bags in your freezer. May be frozen for several months. Reheats quickly in microwave.
FOR APPETIZERS: Use endive instead of lettuce. Fill leaves with turkey mixture and arrange on platter.

WEIGHT WATCHERS POINTS PLUS - 4 points per 1/2 cup serving of the turkey mixture