This warm, creamy dip is always a party favorite. The traditional recipe is loaded with full-fat mayo, sour cream, and cream cheese; delicious, but oh-so-naughty. Compared to a restaurant version, this healthy makeover is 80% lower in calories and fat while maintaining great flavor and creamy richness. Serve it with homemade whole wheat pita chips, and you've got yourself a delicious, no-guilt snack or party appetizer.
-----------------------------------------------------------------------------------------------
This dip has always been one of my favorites, so I wanted to give it a healthy makeover. Here's how I modified the high-calorie version:
Healthified & simplified.
I lightened the recipe by substituting Greek yogurt for the sour cream that is traditionally used.
I used a combination of low-fat and fat-free cream cheese. Feel free to use full-fat cream cheese if you don't mind the additional calories.
I reduced the amount of mozzarella and Parmesan--there's just enough to give it cheesy flavor.
I doubled the artichokes for more of these nutritious, high fiber veggies in every bite. A higher veggie to cheesy ratio reduced the calories per bite.
I used the convenience of frozen spinach in place of fresh; although feel free to substitute fresh.
I made mine in the slow cooker, and it turned out great; but it can also be baked in the oven.
Thanks to Katrina at Baking And Boys for the inspiration for making a lighter version of this recipe.
Good-for-you ingredients!
This dip isn't just lower in calories and fat; it has nutrition-packed ingredients.
Nutritional data
For a 1/4 cup serving of Healthy Spinach Artichoke Dip:
72.2 calories, 2.9g fat, 6.4g carbs, 1.9g fiber, 5.4g protein
Weight Watchers PointsPlus = 2 points
------------------------------------------------------------------------------------------------
Step-by-step photos for making
Healthy Spinach Artichoke Dip
Step 1. Assemble the ingredients: frozen spinach, canned artichoke hearts, Greek (strained) yogurt, fat-free cream cheese, 1/3-less-fat cream cheese, mozzarella cheese, Parmesan cheese, garlic, crushed red pepper, red bell pepper (optional, for garnish)
Note about the yogurt:
Strained yogurt is thicker than regular yogurt and will give the dip a creamier consistency. Greek yogurt is already strained. You can purchase Greek yogurt, or make it yourself by straining regular yogurt. It's easy! Here's how:
Click to learn how to make Greek yogurt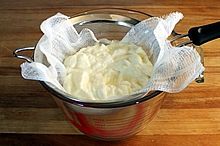 Step 2. Drain the artichokes and roughly chop them.
Step 3. Mince the garlic. I like to use a garlic press to get a fine mince .
Step 4. Dice half of a red pepper, if desired for a garnish. (Set this aside; it doesn't get cooked into the dip.)
Step 5. Thaw, drain, and squeeze the spinach dry. (It can be thawed in the microwave to speed things up.)
Step 6. Cut the cream cheese into chunks.
I used a metal wire strainer for draining the artichokes, spinach and yogurt.
view on Amazon: garlic press, metal wire strainer
Step 7. Two cooking options, slow cooker or oven.
SLOW COOKER METHOD: Add everything but the red peppers to the slow cooker. Give it a stir, put on the lid, and cook for 1-1/2 to 2 hours on high, or 3 to 4 hours on low. You can double or triple the recipe, depending on the size of your slow cooker. Increase cooking time by approx. 1/2 hour if recipe is doubled. This is a great option if you need to make a big batch for a party. (This is how I made mine, but you can bake it in the oven, too. Read on.)


view on Amazon: my favorite slow cooker
OVEN METHOD: In a large bowl, stir together everything but the red pepper; reserving half of the mozzarella and Parmesan cheese. Spoon mixture into 1-1/2 to 2 quart baking dish. Sprinkle top with remaining cheeses. Bake at 350 for 25-30 minutes or until bubbly and golden.
SERVING SUGGESTIONS: This dip is yummy with crackers, tortilla chips, crostini, and pita chips. Serve it with raw veggies for a healthier option.
HOMEMADE PITA CHIPS: It's easy to make your own pita chips. SUPER easy. And they taste fantastic--better than store bought. I used Bracken and Rachel's recipe, shared in a previous post along with their Spinach Basil Dip; but I used whole wheat pitas. These are so delicious with the dip; and a healthy option, too! You simply toss the pita wedges with a little olive oil, salt and pepper, and bake them.
Click to view Easy Baked Pita Chips recipe
The finished dip is so creamy and cheesy that no one will ever guess that it is lower in calories and fat.
Sprinkle on some diced red pepper, if you like.
The baked whole wheat pita chips are a no-guilt, crunchy complement to the dip.
For a big party, I love the convenience of making a double or triple batch in the slow cooker. You'll want plenty of this popular dip. It's a crowd pleaser!
No way this looks or tastes like diet food--it's too creamy and rich.
Make it a Yummy day!
Monica
Healthy Spinach Artichoke Dip - Slow Cooker or Oven
By Monica Servings: makes 5 cups
2 (14 oz) cans artichoke hearts, drained and coarsely chopped
1 (10 oz) package frozen spinach, thawed, drained and squeezed dry
1 cup shredded part-skim mozzarella cheese
1/4 cup grated Parmesan cheese
1 cup low-fat Greek yogurt
1 (8 oz) block 1/3-less-fat cream cheese, softened and cut in 1/2" cubes
1 (8 oz) block fat-free cream cheese, softened and cut in 1/2" cubes
4 cloves garlic, minced (1 tablespoon)
1/2 teaspoon crushed red pepper flakes
1/2 teaspoon ground black pepper
1/2 red bell pepper, diced (optional garnish)
SLOW COOKER METHOD: Coat the slow cooker with cooking spray. Add all ingredients except the red bell pepper. Stir to combine, cover and cook until heated through. 1-1/2 to 2 hours on high, 3 to 4 hours on low. Recipe may be doubled.

OVEN METHOD: Preheat oven to 350 degrees. Set aside half of mozzarella and Parmesan cheeses. In a large bowl, stir together all remaining ingredients but the red bell pepper. Spoon mixture into greased or sprayed 1-1/2 to 2 quart baking dish. Sprinkle top with remaining cheeses. Bake uncovered for 25-30 minutes or until bubbly and golden.

TO SERVE: Sprinkle cooked dip with diced red pepper, if desired. Serve warm with crackers, tortilla chips, pita chips, crostini, or raw veggies.

NUTRITIONAL DATA for a 1/4 cup serving:
72.2 calories, 2.9g fat, 6.4g carbs, 1.9g fiber, 5.4g protein
Weight Watchers PointsPlus = 2 points

TO MAKE YOUR OWN BAKED PITA CHIPS: Find recipe at www.theyummylife.com/recipes/211