My last post was a recipe for Overnight, Slow Cooker, Apple Cinnamon Steel-Cut Oatmeal--a favorite recipe I've been making for several years. You can read about the nutritional benefits of eating steel-cut oats in that post. Today I'm sharing a new version of that recipe with the same procedure and convenience, but with different flavors and ingredients. This also has the rockin' benefit of making it before you go to bed and waking up to a ready-to-eat breakfast.
I made this overnight oatmeal with almond milk, which adds delicious flavor and nutrition. If you omit the butter, this recipe is lactose-free and vegan. It tastes delicious and quite different from my original apple-cinnamon version. I love the flavors of cherries and almond together. The almond flavoring comes from almond extract, almond milk, and toasted almonds sprinkled on top.
Dried, tart cherries are a SUPER FRUIT! In fact, they are one of the highest in disease fighting antioxidants. They have 19 times more beta carotene than blueberries or strawberries, contributing to healthier skin, good vision and a robust immune system. Read more about the benefits of dried cherries here.
Why use almond milk? Well, first of all, it tastes good and really complements the other flavors in this recipe. It's also very nutritious and is a great alternative to cow's milk, making it suitable for lactose-free and vegan cooking. Almond milk is packed with nutrients. A serving provides 30% of recommended daily calcium, 25% of Vitamin D, and 50% of Vitamin E. That means it contributes to strong bones, good vision, healthy skin and more. It has zero cholesterol and is low in carbs--good for you heart, regulating blood sugar, and weight loss. Read more about it's benefits here.
Weight Watchers PointsPlus: 5 pts per 3/4 cup serving
Step-by-step photos for making
Overnight, Slow Cooker, Cherry Almond Steel-Cut Oatmeal
Step 1. Assemble the ingredients: dried cherries, apple, almond milk (I used unsweetened vanilla almond milk), steel-cut oats, brown sugar, almond extract, salt, ground flaxseed, butter*, sliced toasted almonds (for optional garnish).
*Omit the butter or use a margarine substitute for a lactose-free, vegan recipe.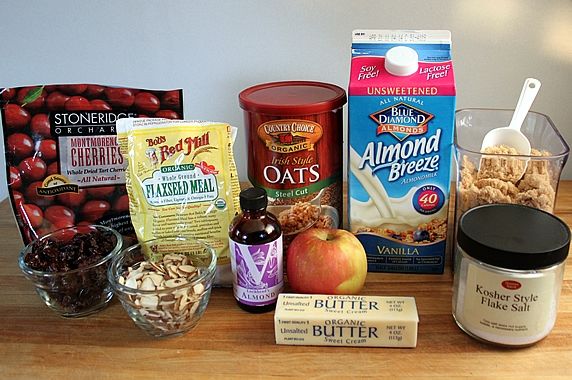 Step 2. Peel and grate the apple. This cooks into the oatmeal to add sweetness and moisture, without a distinct apple flavor. You can substitute applesauce, if you prefer.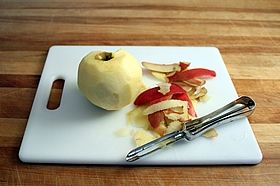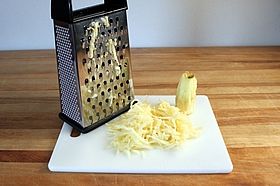 Step 3. Coat the slow cooker with cooking spray. Don't skip this step, or you will really regret it. You'll need a hammer and chisel to get the slow cooker clean if it's not sprayed with oil first. (I speak from experience here.)
Step 4. Throw everything in the slow cooker. Stir it. I have a 6-1/2 quart slow cooker, but 3-1/2 quarts is big enough for this recipe. I can double the recipe in my slow cooker when I'm feeding more than 4 or 5 people.
click here for Amazon link to my Crock Pot (rated #1 by Cook's Illustrated)
Step 5. Put on the lid. Set it to cook on low for 7 hours. That's how long it takes in my slow cooker, anyway. The cooking time can vary greatly from one slow cooker to another, so read my tips below for How To Avoid Overcooking Your Oatmeal.
Step 6. Go to bed. Wake up to the sweet aroma of cherries and almond.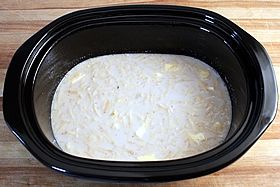 Here's how it looks after 7 hours of cooking. Let's be honest. It doesn't look very appetizing. Don't let that freak you out.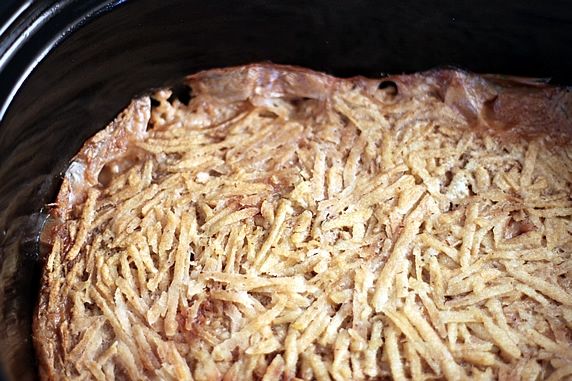 Dig out a spoonful from the bottom to reveal the gooey, goodness of the finished oatmeal. It gets crusty around the edges of the slow cooker. That's my favorite part. The cherries plump up while they cook and are moist and tender.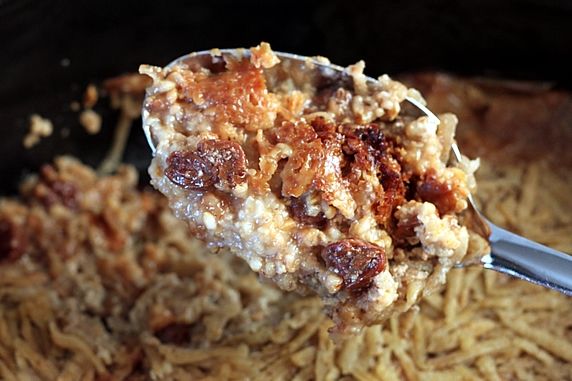 The finished dish tastes more like a cherry crisp dessert than a healthy breakfast. Those brown bits mixed in are so yummy. You can top it with maple syrup, toasted sliced almonds, and more almond milk and butter, if you like. I added sliced almonds on top of mine.
How To Avoid Overcooking Your Oatmeal. My overnight oatmeal was perfect after 7 hours of cooking, and I was lucky that it turned out perfectly with the first try. Although many have had the same success, some readers have commented that their oatmeal was burnt and ruined after 7 hours--that was too long in their slow cookers. There can be some trial-and-error in figuring out exactly how long to cook this in your slow cooker--they can vary a lot in temperature and cooking time. Here are some tips to try:
The first time you try this recipe, make it sometime during the day when you are at home and can keep an eye on it and determine when it is done. (A tip from Kate at Our Best Bites when she made the apple-cinnamon version of this recipe.) You want the edges slightly browned, but not burnt. Start checking it after 5 hours of cook time. Assuming your lid is clear, eyeball the oats through the lid without lifting it. Everytime you lift the lid, it adds 30 more minutes to the cooking time.
Plug your slow cooker into an on-off light timer, if you normally sleep longer than the time required for your oats to cook and you don't have a programmable slow cooker. You can assemble the ingredients in the slow cooker before you go to bed and set the timer to turn on later. That way your oats won't overcook and you don't have to get up in the wee hours to turn off your slow cooker. (A tip from my friend Sheri of The Loopy Ewe)
view on Amazon: on-off lamp timer (for auto shut-off)
Or, set up a double boiler in your slower cooker. (see my Pumpkin Pie Slow Cooker Oatmeal for photos of this method) This allows you to extend the cooking time in your slow cooker without burning the edges of the oatmeal. Insert a heat-proof bowl inside the slow cooker that is large enough to hold the oatmeal ingredients. Spray or grease the bowl. Add the oatmeal ingredients. Add water to the slow cooker, pouring it between the outside of the bowl and the inside of the slow cooker until the water is approx. half way up the sides of the bowl. Put the lid on the slow cooker, turn it on low, and let it cook for up to 8 hours (maybe longer). You won't have any browned edges, but they don't burn either. Another bonus--clean up is a breeze!
view on Amazon: heat-proof bowls for double boiling in slow cooker
(The largest bowl in this set fits inside my slower cooker)
Make it ahead and reheat leftovers. I make a batch of this, refrigerate leftovers in 1 cup containers, and reheat individual servings in the microwave. Heat it in a microwave proof bowl with 1/3 cup additional almond milk, cook on high for 1 minute. Stir and microwave approx. 1 more minute until hot. Breakfast is ready! It's easy to grab one of these to take along to heat up at work. Freezes well, too.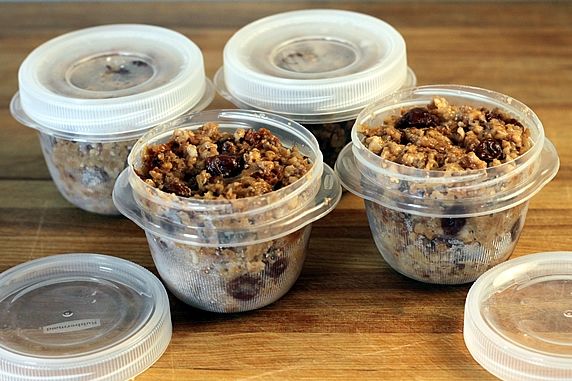 A spoonful of this is cherry delicious.
Make it a yummy day!
You might also be interested in these. Same idea, different flavors:
Slow Cooker Apple Cinnamon Steel-Cut Oatmeal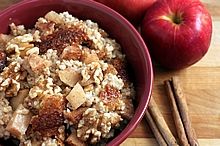 Slow Cooker, Banana & Coconut Milk Steel-Cut Oatmeal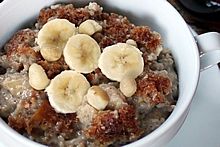 Slow Cooker, Pumpkin Pie Steel-Cut Oatmeal
Slow Cooker, Eggnog Cranberry Steel-Cut Oatmeal
Overnight, Refrigerator, No-Cook Oatmeal in 6 Flavors
Slow Cooker, Cherry Almond Steel-Cut Oatmeal
By Monica Servings: 7 (3/4-cup) servings
3/4 cup dried tart cherries
1 apple, peeled and grated (approx. 1 cup grated); or 1/2 cup unsweetened applesauce
2 cups unsweetened vanilla almond milk
1-1/2 cups water
1 cup uncooked steel-cut oats
2 tablespoons brown sugar
1-1/2 tablespoons butter, cut into 5-6 pieces, optional (omit or substitute margarine for lactose-free, vegan)
1/2 teaspoon almond extract
1 tablespoon ground flax seed
1/4 teaspoon salt
Optional garnishes: toasted sliced almonds, maple syrup, additional almond milk or butter
Coat inside of 3-1/2 quart (or larger) slow cooker with cooking spray. Add all ingredients (except optional toppings) to slow cooker. Stir, cover, and cook on low for 7 hours. Spoon oatmeal into bowls; add optional toppings, if desired. Store leftovers in refrigerator. Freezes well.

To reheat single servings: Put 1-cup cooked oatmeal in microwave proof bowl. Add 1/3 cup almond milk. Microwave on high for 1 minute; stir. Continue cooking for another minute, or until hot.

Recipe can be doubled in 6-quart or larger slow cooker. Increase cooking time 1 hour.

Weight Watchers PointsPlus: 5 pts per 3/4 cup serving