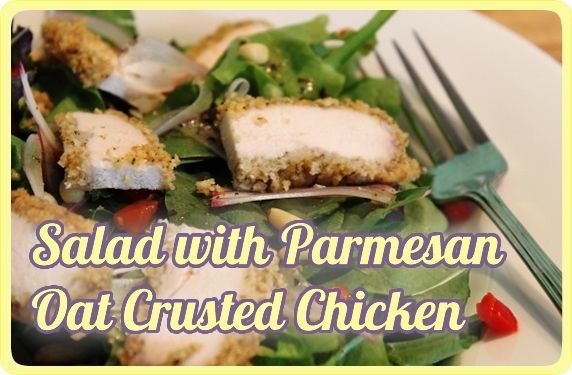 I made Parmesan Oat Crusted Chicken for dinner last night. One of the things I love about that recipe is that it's great to have on hand to jazz up a salad the next day. I try to eat a salad for lunch (operative word is "try"), and I'm much more likely to if there's a quick way to make it especially yummy. Adding the chicken makes the salad taste better and gives it a protein boost, too.
So, give this a try. Mix up some salad greens and whatever add-ins you like. Dress it with a simple vinaigrette and top it off with some sliced Parmesan Oat Crusted Chicken. There's no specific recipe for this salad. You can just wing it with whatever you have on hand. The one pictured is a favorite combo of mine:
the greens are half baby spinach and half baby spring mix
thinly sliced red onion
chopped roasted red peppers or pimentos--the kind in a jar
pine nuts
dressed with a vinaigrette of olive oil and red wine vinegar
Thinly slice a Parmesan Oat Crusted Chicken breast. I used less than half a breast on my salad. After thinly slicing it, I did one big slice down the center to cut it into bite size pieces.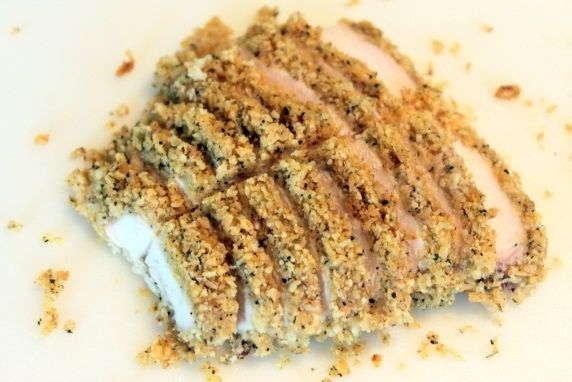 You can heat the chicken or eat it cold. I usually just eat it cold, because I'm lazy and I don't feel like fussing with lunch too much. The cold version is also something you can take with you for eating at work or on the go. Take some dressing in a separate container so it doesn't get soggy, and dress and toss it when it's time to eat. Presto. Delicious, nutritious lunch.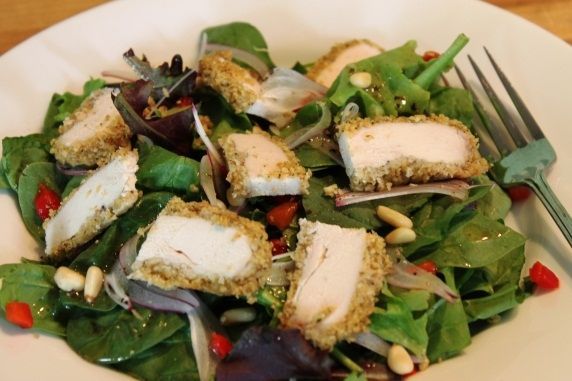 What do you like to add to your salad greens? I'd love to know your favorite combo, 'cause maybe I'll steal yours to make on another day.
Have a yummy lunch today!

Pin on Pinterest