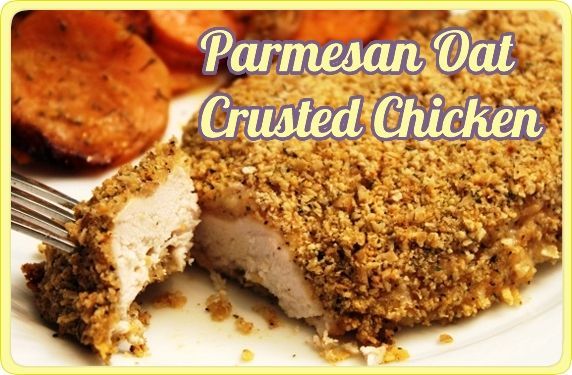 I love fried chicken. The fried in oil in a skillet kind. With mashed potatoes and gravy. That is the ultimate take-me-home-country-roads comfort food for me.
This recipe is not a substitute for that down home kind of fried chicken. This is what I'll call a healthy alternative to fried chicken. But, to be clear, it's no substitute. There simply isn't one. I hate it when cookbooks try to pass off a modified, healthier recipe as something as good as or better than the original. That hardly ever happens. Who are we kidding here? There's usually no perfect substitute for the original. Certainly not when it comes to fried chicken.
HOWEVER, as I have aged and my metabolism has slowed disappeared from the face of the earth, I have had to find good tasting, healthier alternatives to the naughty foods that I once could get away with eating with reckless abandon. I occasionally eat the down home kind of fried chicken for a splurge; but, sadly it is no longer a regular part of my diet.
So I'm sharing what I think is a pretty darn tasty recipe as a substitute an alternative to fried chicken. The crust is made with ground up oatmeal and Parmesan cheese, and the only oil I use is olive oil. I usually make this using skinless, boneless chicken breasts--seems to be the healthiest way to go. King-Man really likes this recipe, so that makes it a winner for us. It's good to serve with pretty much any vegetable on the side. I serve it with roasted sweet potatoes here and will share that recipe in another post. There are also some delicious things to do with the leftovers. I'll share those ideas later, too.
This is one of those recipes that has evolved over the years. Back in the day, in place of olive oil I drizzled it with melted butter before baking it. T-Man started calling this "Bready Chicken" when he was younger, because all he cared about eating was the buttery breading that coated the chicken. Occasionally a bite of chicken would slip into his mouth, but it was pretty much all about the bready part for him.
Here's are the step-by-step photos for Parmesan Oat Crusted Chicken (a.k.a. Bready Chicken):
First prepare the chicken breasts by pounding them to about 1/2" thickness. See my post Preparing Raw Chicken for Perfection if you don't know how to do this. I'm usually cooking for 2, but I make more than 2 chicken breasts so I have some for leftovers and freezing. Freezing instructions are at the bottom of this post.
Here are the ingredients I assembled: garlic, oats, Parmesan cheese, salt (not pictured), pepper, olive oil, paprika, basil, oregano, parsley, and chicken breasts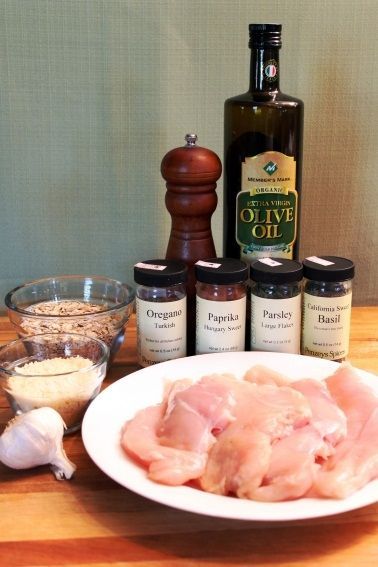 Put the garlic cloves in the food processor and pulse them until they're good and chopped up.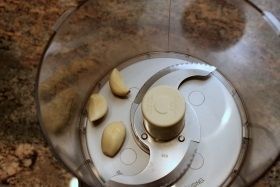 Now add the oats, Parmesan cheese, salt, paprika, and pepper. I'm also throwing in basil, oregano, and parsley for some Italian flavor, but that's optional. It's tasty either way. King-Man likes it with the works. I like it both ways--plain and the Italian version.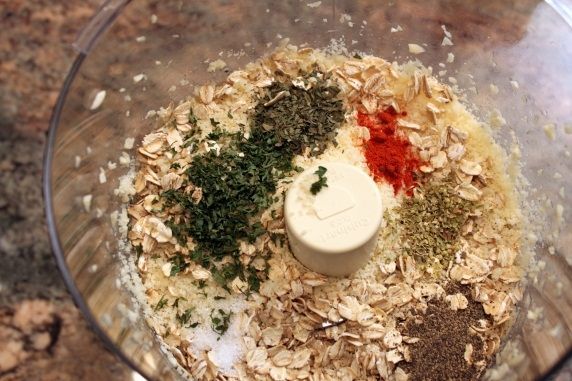 Give this a whirl until the oats are the texture of course flour--40 seconds or so should do.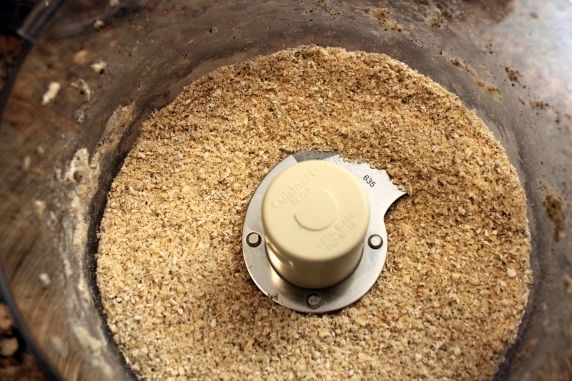 Pour the oat mixture and olive oil in separate shallow dishes. I like to use pie plates for my dipping. Now dip a chicken breast in the olive oil.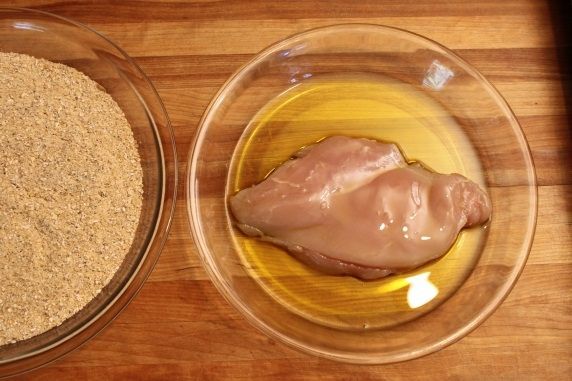 Then coat the chicken with the oat mixture.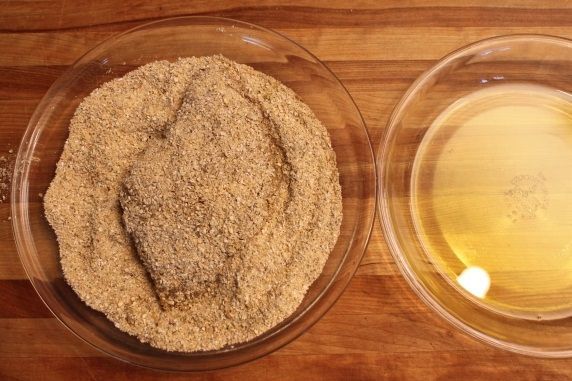 Arrange the chicken pieces in a large baking dish that's been sprayed with cooking spray. Gently pat down the breading that's on the chicken. You want the breading to come in contact with the olive oil, so the oil gets absorbed into the oats and results in a brown, crispy crust. If it looks too dry, you may want to give the tops of the chicken a light spray with olive or canola oil just to be sure it isn't left too dry.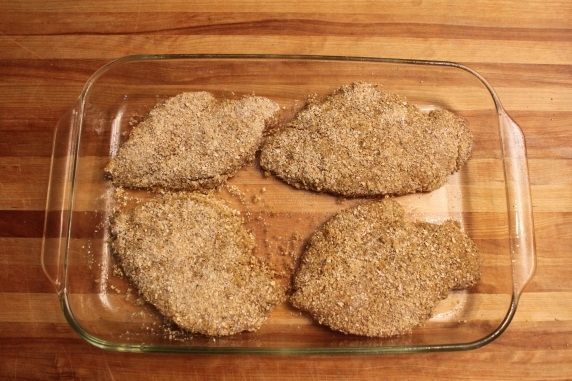 Now bake it until an instant-read thermometer reads 165 degrees. Check it at 20 minutes.
Now eat and enjoy!
HOW TO FREEZE THIS RECIPE:
I usually freeze the chicken breasts after I have coated them with the oat mixture, but before they are cooked. Then you can just thaw them and cook them as described above. Here's how I wrap them up in individual sheets of wax or parchment paper: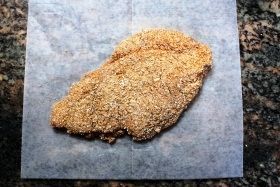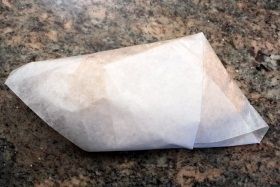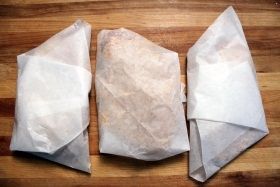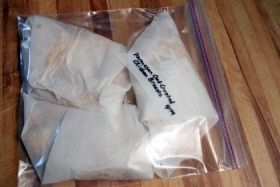 Insert the individually wrapped chicken breasts into a Ziploc freezer bag. Put them in the freezer and you'll have a quick main course ready for another time.
You might also like these recipes using Parmesan Oat Crusted Chicken:
And, the side dish:
Parmesan Oat Crusted Chicken
By Monica Servings: Serves 6-8
3 garlic cloves, minced
2 c. uncooked old fashioned rolled oats
2/3 c. grated Parmesan cheese
1 t. salt
1 t. paprika
1/2 t. ground black pepper
1/2 teaspoon dried basil (optional)*
1/2 teaspoon dried oregano (optional)*
1 teaspoon dried parsley (optional)*
1/2 c. olive oil
6-8 boneless, skinless chicken breasts, pounded to 1/2 thick all over
cooking spray
Preheat oven to 400 degrees. In food processor chop the garlic. Add oats, cheese, salt, paprika, & pepper (also basil, oregano & parsley, if desired) and process until texture of course flour. Pour olive oil in a shallow bowl or pie plate. Dip chicken in olive oil, let excess oil drip off, then roll chicken in oat mixture . Place chicken in large, shallow baking dish coated with cooking spray. Pat the oat mixture into the chicken gently; this helps it make contact with the olive oil to help the coating brown and crisp. If it looks dry, give it a light coating of cooking spray. Bake uncovered for approx. 20-25 minutes until an instant-read thermometer registers an internal temperature of 165 degrees. Remove from oven, and let chicken rest for 5-10 minutes to allow juices to settle. These freeze well.

*Include these herbs if you prefer an Italian flavor.
Variations:
For an Italian flair, add the dried basil, dried oregano, dried parsley to the oat mixture. Use fresh herbs if you have them, but the dried ones work just fine for this.
For chicken nuggets, cut breasts into 1-1/2 inch pieces, dip in olive oil & oat mixture, and bake. Check for doneness at 15 min.
Serve as an entree as is, or try the chicken on a sandwich.
Use the same method with cut up, skinless, bone-IN chicken pieces. Increase cooking time to approx. 35 to 45 min. Time will vary depending on size of pieces. Use instant-read thermometer to ensure internal temperature of 165 degrees.
Leftover chicken is great cut into strips and added to a salad.