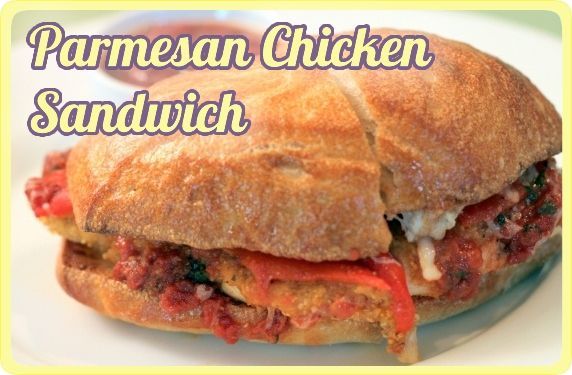 Here is one more way to use leftover Parmesan Oat Crusted Chicken. You're going to want to try this. It is a winner and so, so easy. This is one of the reasons that I make up extra chicken and freeze it. That way I can throw together these sandwiches in a snap.
Here are the step-by-step photos for the Parmesan Chicken Sandwich:
First you want to heat up a leftover Parmesan Oat Crusted Chicken breast. You'll need one breast per sandwich for a big appetite. Half of one of these is enough for me. You can zap the chicken in the microwave to heat it, but the crust will be pretty soggy. If you don't mind that, it's faster that way. I prefer to heat my chicken in a skillet to take some of the soggy away. Heat it on both sides just until the chicken is heated through.
Note: You may also use a grilled or baked chicken breast in this sandwich, if you don't have the Parmesan Oat Crusted Chicken prepared.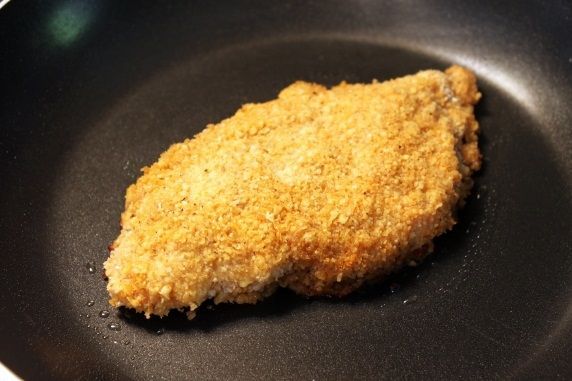 Next take a roll of your choice. I'm using a ciabatta roll here, because that's what I had on hand. But any good bread will work. Brush both sides with some olive oil and stick it under the broiler until it gets nice and toasty.
Put the heated chicken breast on one side.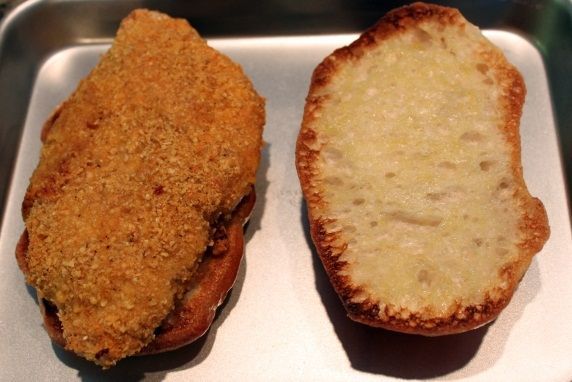 Put a layer of roasted red pepper on top of the chicken. This is the kind that comes straight out of the jar. (You can roast your own pepper, if you prefer.) It adds scrumptious flavor and nutrition to the sandwich.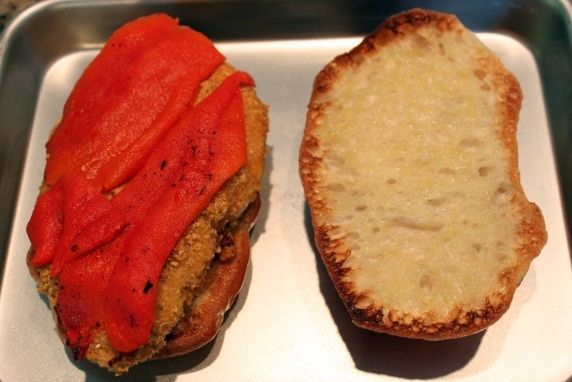 Now spoon some marinara sauce over the top of the red pepper. This can be a homemade sauce (click here for my marinara sauce recipe) or your favorite out-of-the-jar pasta sauce.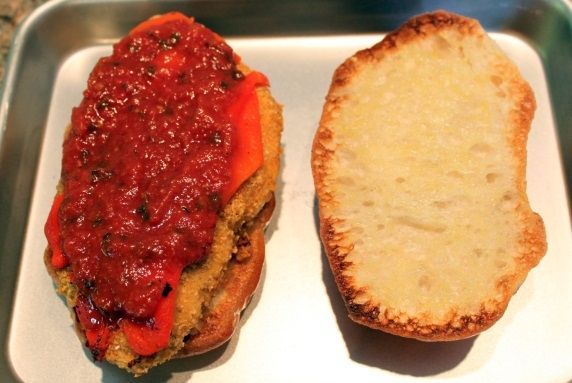 Just look at all of those good flavors piling up. LOVE IT! Now for the cheese. I like to add 2 kinds. Grate some Parmesan on top of the saucy side (a Microplane works great for this). The other side of the bread is looking lonely. Better add some cheese there, too. I added some sliced provolone, but mozzarella would work, too.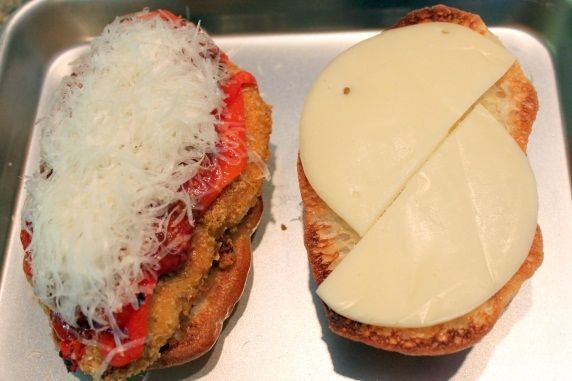 We're almost finished. Just one more step. Stick that cheesy delight under the broiler and let it get all melty-toasty-browny.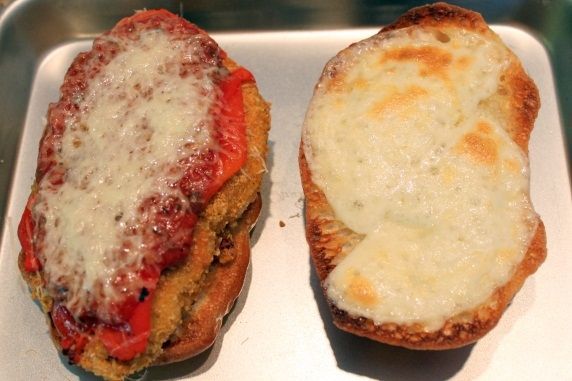 Now slap those two suckers together, and you've got one fantastic sandwich.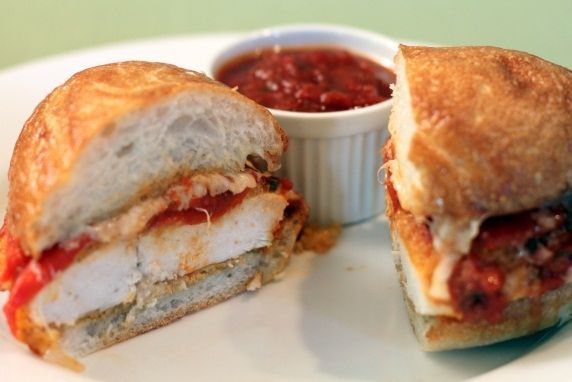 Make sure you serve it with a little bowl of extra marinara sauce for dipping. If it doesn't get all over your face when you bite in, then you don't have enough sauce on it!
Make it a yummy day!
Parmesan Chicken Sandwich
By Monica Servings: Makes 1 sandwich
1 cooked Parmesan oat crusted chicken breast (or a plain baked or grilled breast)
1 sandwich roll, split
roasted red pepper (out of a jar is fine)
marinara* or red pasta sauce
Parmesan cheese, grated
provolone or mozzarella cheese, sliced or grated
Heat the chicken breast in a medium-hot skillet on both sides until chicken is warm throughout. Open the sandwich roll on a broiler-proof pan. Brush each side with olive oil and broil until lightly browned. Add ingredients to the bottom side of the roll in this order: heated chicken breast, roasted red pepper, marinara sauce, grated Parmesan cheese. Place provolone or mozzarella cheese slices on the other side of the roll. Return to the broiler and toast until cheese on both side is melted and lightly browned. Put the two halves together and enjoy. Serve with a side of marinara sauce for dipping.

*For Marinara sauce recipe, go to www.theyummylife.com/recipes/17