Here's my healthy makeover of egg salad. Traditionally, it has lots of mayonnaise and is high in fat and calories. I've substituted Greek yogurt for most of the mayo; and honestly, I like the taste better. This recipe has all of the protein and nutrition of eggs combined with high protein, low fat yogurt. It's hard to believe something this creamy is really good for you. Fresh dill gives it great flavor, too.
I let the food processor do the work in this recipe, so it's super fast and easy to make.
Weight Watchers Points: This egg salad recipe has 3 points per 1/3 cup serving.
Step-by-step photos for making Egg Salad with Yogurt and Dill
Step 1. Boil the eggs. Here's my method.
How to Cook and Peel Perfect Hard-Boiled Eggs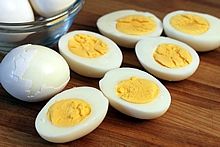 Step 2. Assemble the ingredients. Low-fat Greek yogurt, mayonnaise, black pepper, salt, boiled eggs, fresh dill, and lettuce.
Note about the yogurt:

Strained yogurt is thicker and will prevent your egg salad from getting watery. Greek yogurt is already strained. I used the Fage brand, because it is particularly thick and creamy; however, it is more expensive than unstrained yogurt. It's easy to strain your yogurt yourself; here's how.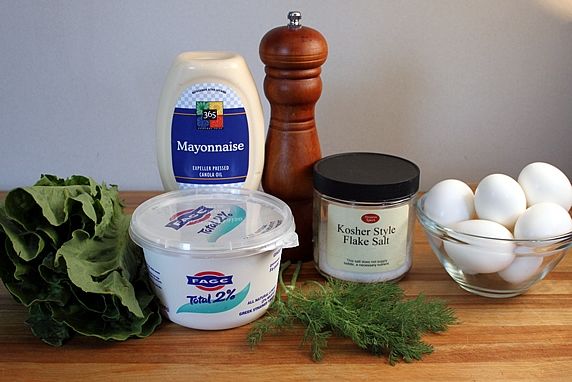 Step 3. Cut the eggs in half and put them in the food processor bowl. Pulse them until they are chopped. Don't overdo it--you don't want them pureed. It took 10-12 quick pulses for me. Of course, you can chop them with a knife, if you prefer.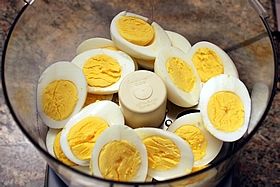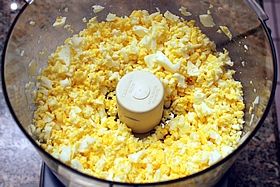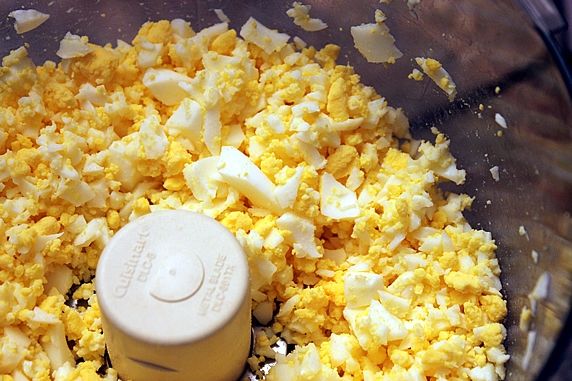 Step 4. Mince the dill. Don't include the dill stalks, just chop the lacy part.
Step 5. In a separate bowl, combine the yogurt, mayo, salt, pepper, and dill.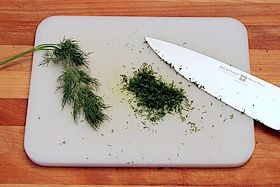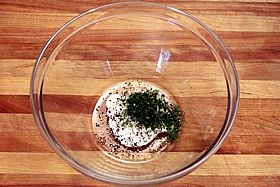 Step 6. Combine the yogurt mixture with a fork.
Step 7. Add the chopped eggs.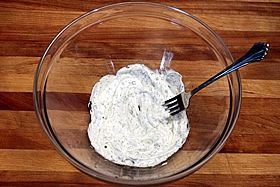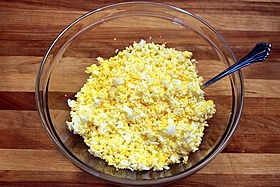 Step 8. Combine everything with the fork, using a light touch.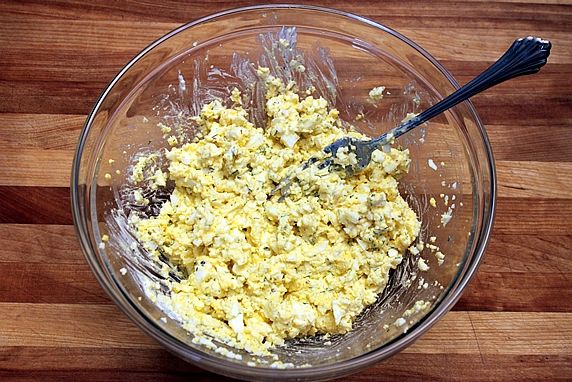 Done! Time to eat. Here are my two favorite ways to eat egg salad.
Serving Suggestion #1: Egg salad sandwich. Split a good roll, croissant, or pita and fill it with egg salad. I like to add lettuce to mine.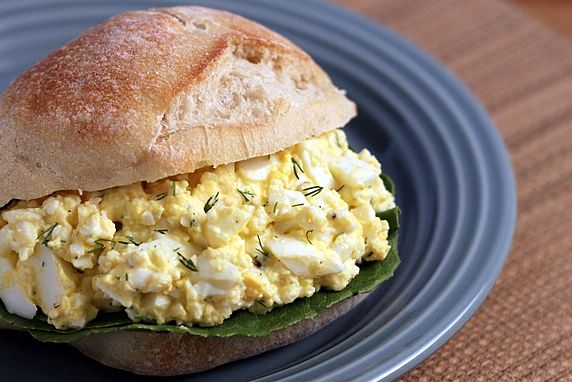 Tea time sandwiches: Serve egg salad finger sandwiches. Simply cut the crusts off of sandwich bread, spread this egg salad between two pieces of bread, cut it into 4 triangles. Perfect little English-style tea sandwiches.
Serving Suggestion #2: Egg salad in a tomato flower bowl. Check out my next post for cutting instructions for make a tomato flower. This is a healthy, edible salad bowl. And, it makes a pretty presentation.
Click to view How to Cut A Tomato Flower.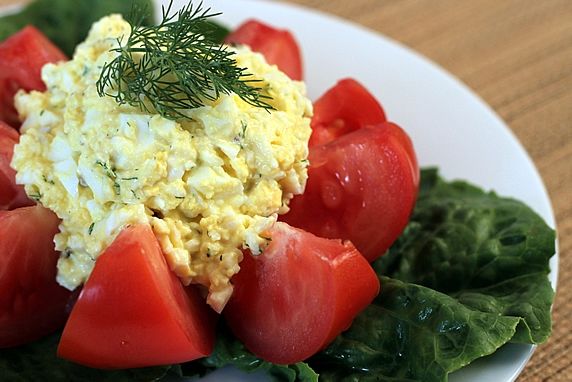 Appetizer idea: Use cherry tomatoes to make miniature tomato flowers with a tablespoon of egg salad on top. Delicious and nutritious.
You might also like this healthy recipe made with yogurt:
Click to view Chicken or Turkey Salad with Cranberries and Pecans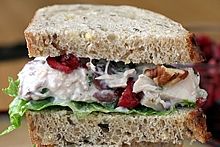 Make it a Yummy day!
Monica
Egg Salad with Yogurt and Dill
By Monica Servings: 4-6 servings
8 large eggs, boiled and peeled
1/3 cup low-fat Greek yogurt
1 tablespoon mayonnaise
1 tablespoon minced fresh dill (may substitute 1 teaspoon dried dill)
3/4 teaspoon kosher salt
1/2 teaspoon freshly ground black pepper
Cut each egg in half and place in food processor bowl. Pulse 10-12 times until eggs are broken up into small pieces, being careful not to overdo it and puree the eggs. (Or, chop the eggs with a knife.) In a separate large bowl, use a fork to whisk together the yogurt, mayonnaise, dill, salt, and pepper. Add the chopped eggs and mix lightly with the fork until well combined. (3 Weight Watchers PointsPlus per 1/3 cup serving.)

Serving suggestions:
--As a sandwich. Spoon 1/3 to 1/2 cup egg salad inside a split roll or croissant; or use sandwich bread. Add lettuce or other greens to the sandwich, if desired.
--As a pita. Insert lettuce or other greens inside pita. Fill with 1/3 to 1/2 cup egg salad.
--As a salad alone. Add a 1/3 to 1/2 cup egg salad to top of a bed of lettuce or other greens.
--In a tomato flower. Add 1/3 to 1/2 cup egg salad inside a tomato that has been cut into a flower. (For cutting instructions, go to: http://www.theyummylife.com/blog/2011/04/179)

See instructions for cooking perfect hard-boiled eggs at: www.theyummylife.com/blog/2011/04/177