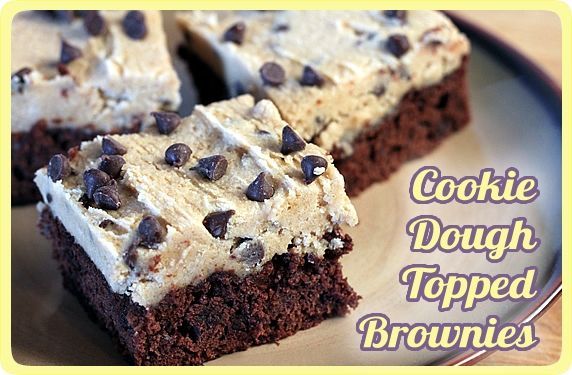 Seriously? Cookie dough on top of brownies? When I saw this recipe by fellow blogger Lauren at Keep It Sweet, I knew without a doubt that it would be a childhood dream come true for T-Man. In fact, the name of Lauren's post that includes this recipe is Brownies of Childhood Fantasies. Bingo! She hit the nail on the head.
You see, T-Man was, and most likely always will be, a cookie dough kid. He used to beg me to skip baking the cookies altogether. He wanted just a big ol' bowl of raw cookie dough. I couldn't bring myself to do it, though. You know, all of the motherly concerns about salmonella in the raw eggs. So, he'd have to settle for licking the spoon or beater. (Fortunately, that never made him sick.)
Lauren's Cookie Dough Topped Brownie recipe is everything T-man loves. (Did I mention that he's a chocoholic, too?) Her cookie dough topping omits the raw eggs, so these brownies can be eaten with reckless abandon. That's exactly what T-Man did. Here he is licking the spoon and beater--a teaser of the brownies that were in the works. And, no, this 25-year-old has not outgrown licking the spoon. (Notice his laptop nearby--techie guy T-Man never strays too far from it.)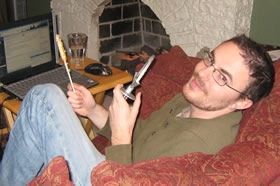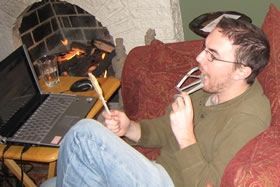 When T-Man was in town last weekend, a bunch of his 25ish-year-old friends came over for a football party. Sadly, the Rams were beaten by the Seahawks. That ended football season in our house. Let's pause for a moment of silence now.
Okay. Moving on. Despite the unpleasant outcome of the football game, the food at our party rocked. Especially the cookie dough topped brownies. Definitely the hit of the party. I guess T-Man isn't the only 20-something who still loves cookie dough. His friends raved about these brownies.
Below is the link to Lauren's recipe. I followed it exactly except I used mini chocolate chips, because that's what I had on hand. Her tip for chilling/freezing the pan of brownies made it easy to spread the cookie dough on top. I'll definitely be making these again. Thanks for the great recipe, Lauren!
Click here to view Cookie Dough Topped Brownie Recipe.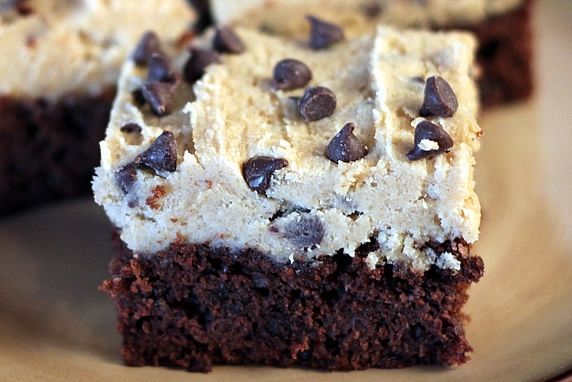 Do you have any cookie dough fanatics in your family? If so, these brownies will make them very, very happy.
Here's another cookie dough recipe that might interest you. I made these for T-Man's birthday:
Click to view Chocolate Chip Cookie Dough Truffles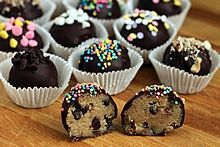 Make it a yummy day!
Other posts that may interest you:

Pin on Pinterest