People think chocolate dipped strawberries are fancy food. Honestly, I've never understood why. This is one of the easiest desserts I make. I've been making these for many years. We've had them for Valentine's Day as long as I can remember. Whenever I serve them, people act so impressed. Like this is supposed to be hard. It's not. It is so, so easy.
Like caramel apples (see my post for making those), strawberries can be dipped in chocolate and customized with an unlimited number of decorative and tasty toppings. Once you have all of your ingredients assembled, you can make these in 30 minutes. I'm not kidding.
Here's a short video that shows you how easy it is to make these:
Step-by-step photos for making


Chocolate Covered Strawberries
Step 1. Assemble the ingredients:
strawberries,
chocolate chips (I prefer semi-sweet), white chocolate or vanilla chips
neutral tasting vegetable, canola or grapeseed oil
oil-based food coloring (not the common water-based kind), for coloring white chocolate, if desired
view oil-based candy food coloring on Amazon:
pastel colors, primary colors
Unlimited topping options. You can dip your strawberries in melted chocolate and stop there. They're delicious plain. If you want to add some variety, gather some toppings that appeal to you. Here, I used:
Kraft Caramel Bits (melted in the microwave and drizzled on),
crushed Oreos or candy canes (to crush them, put them in a plastic bag and whack them with a skillet, meat pounder, or rolling pin)
chopped toasted pecans or almonds
course sugar mixed with cinnamon
coarse red sugar
red/pink/white sprinkles
mini chocolate chips.
view on Amazon: prep bowls with lids
Step 2. Wash the strawberries. I fill a small bowl with water, hold the strawberry by the stem/leaves and immerse only the red part of the berry in the water. (If you immerse the leaves in water, as they dry they may curl and get a dried-out look that isn't as pretty.) After dunking each strawberry, place it on a paper towel to dry completely. Or, blot off the water if you don't have time to let them air dry. It's important that they're totally dry when you dunk them in melted chocolate.
Step 3. Melt the chocolate chips. Some people over-complicate this with a tedious, tricky tempering process. I've never bothered with that. I've always melted my chips in the microwave. For years. It's worked every time. The only way you can mess up is by overcooking the chocolate. Heat and stir the chips in 20-30 second intervals until the last chunks melt and stir in. Then stop heating. Adding a small amount of oil, gives the melted chocolate a smoother, glazy texture and appearance. Here's my melting recipe, for more details:
View Melted Chocolate for Dipping and Drizzling Recipe
TIP:

If you'll be melting a lot of chocolate, the slow cooker is a great way to melt the chips and keep them at a perfectly melted consistency for an extended period of time. You can read about it in my post:

Slow Cooker Melted Chocolate
Step 4. Dip each berry in melted chocolate. Swirl the berry around in the melted chocolate, covering it in a layer of chocolate almost to the top. Let chocolate drip off and scrape off excess against edge of bowl.
Place the dipped strawberry on a tray lined with parchment paper or a silicone mat.
view on Amazon: parchment paper sheets, silicone mats
Step 5. Add toppings, if desired. While the chocolate is still wet, roll the berry in toppings or sprinkle them on.
Step 6. Add drizzles, if desired. After the chocolate coating has set (this only takes minutes), add drizzles in a contrasting melted chocolate color. I used semi-sweet chocolate and pink-colored white chocolate on the white dipped berries, and white and pink colored chocolate on the dark chocolate berries. Use one of these methods:
1. Pour melted chocolate into a squeeze bottle. Keep it warm in a jar of hot water. This is the method I recommend, if you have a squeeze bottle. It gives you the most control.
2. Pour chocolate into a plastic bag. Twist the bag at the top and push the chocolate toward one lower corner of the bag. Snip the corner with scissors, and apply melted chocolate by squeezing it through the hole.
3. Use a spoon. You can't be as precise with a spoon, but you can achieve a lacy, pretty effect by holding the spoon of melted chocolate higher over the berry and drizzling a thin stream of chocolate in a scattered, zig-zag fashion.
view on Amazon: squeeze bottle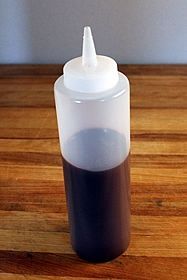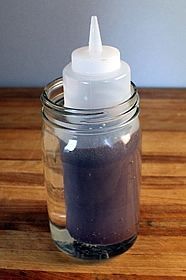 IMPORTANT TIP about food coloring! To color the white melted chips, be sure to use oil-based food coloring that is made for candy. This is not the kind normally found in grocery stores. Most of the common food colorings are water based and will make the melted chocolate immediately seize and form a paste consistency that can't be drizzled. Another option is to use pink Wilton candy melts. Or, skip the colored melted chocolate altogether; you can decorate beauiful strawberries without it.
view oil-based candy food coloring on Amazon:
pastel colors, primary colors
The melted chips can be drizzled on in a random, lacy pattern, or applied in long drips as pictured below. This is a tray of berries dipped in semi-sweet chocolate; some have been rolled in toppings and others have had caramel or melted chips drizzled on. I like to make a variety.
These berries were dipped in melted white chocolate chips and then decorated.
These are the berries I dipped and decorated today. You can get as creative as you choose with these. I like to leave a few of them plain (dipped with no added toppings). Some people prefer them that way. Like King-Man.
White Chocolate Dipped Varieties
1. Plain--no toppings.
2. Drizzled with pink-colored melted white chocolate. Coarse sugar sprinkles on top.
3. Sprinkled with coarse red sugar.
4. Semi-sweet chocolate drizzled on with a spoon.
5. Mini-chocolate chips sprinkled on.
6. Rolled in chopped toasted almonds.
7. Rolled in crushed candy canes.
8. Roll in a mixture of coarse sugar and cinnamon.
9. Semi-sweet chocolate drizzled on with a spoon.
10. End dipped in melted pink-colored white chocolate; sprinkled with coarse sugar.
11. Rolled in red nonpareils sprinkles.
12. Rolled in crushed Oreos.
Dark Chocolate Dipped Varieties
1. Plain--no toppings.
2. Drizzled with melted white chocolate chips.
3. Rolled in chopped toasted almonds.
4. Drizzled with pink-colored melted white chocolate. Coarse sugar sprinkles on top.
5. Drizzled with melted caramel bits, sprinkled with toasted chopped pecans.
6. Rolled in pink/red/white nonpareils sprinkles.
7. Rolled in crushed candy canes.
8. Drizzled with melted white chocolate chips.
9. Rolled in toasted chopped pecans.
Storage tip: Keep these in a cool place or the fridge (uncovered or loosely covered) for up to 8 hours before serving. If stored longer, juice from the berries begins to slowly leak out of the bottom and pools at the base of each berry. They still taste good the next day, but the texture gradually gets mushier.
Serving tip: Arrange the finished berries on a platter, as pictured below. Or, place berries in individual paper mini-cupcake liners before arranging them on the platter--this makes them easy to grab and eat.
Turn these into a gift: Put a dipped berry or two in a paper cupcake liner, insert in a cellophane bag, tie it with a ribbon, and attach a cute tag. Here are some downloadable tags and gifting ideas:
click here for Valentine's Day Gift Tags
Here's a full platter of these delicious treats. The variety makes it so pretty! And impressive. Don't tell anyone how easy it is. It'll be our little secret.
It's always fun to watch people agonize over which one to choose.
Make it a Yummy day!
Monica
Check out my post about decorating strawberries for the 4th of July:
Red, White & Blue Chocolate Covered Strawberries
Chocolate Covered Strawberries
By Monica Servings: 16-18 large berries
1 bag (12 oz) semi sweet chocolate chips, divided
1 bag (12 oz) white chocolate or vanilla chips, divided
2 pounds strawberries, washed and dried completely
4 tablespoons neutral oil: vegetable,canola or grapeseed
oil-based food coloring (optional), the kind used specifically for coloring candy
TOPPING SUGGESTIONS: caramel bits (melt in microwave and drizzle on), crushed oreos and candy canes (to crush them, put them in a plastic bag and whack them with a skillet or meat pounder), chopped toasted pecans, chopped toasted almonds, course sugar mixed with cinnamon, coarse colored and plain sugar, nonpareils sprinkles, mini chocolate chips
Put 1 cup chocolate chips in a microwave-safe bowl with 1 tablespoon oil. Cook on full power, checking at 20-30 second intervals, stirring each time. Stop heating when most, but not all, of the chips are melted--there should be a few chunks left. Stir until it is smooth and chips are completely melted. Be careful not to overcook. Divide out half of strawberries and dip in melted chocolate, holding by the stem, turning until berry is coated almost to stem; let excess drip off. Immediately roll in toppings, or sprinkle them on. Place on parchment or waxed paper lined pan. Repeat with remaining half of strawberries using melted white chocolate chips. To drizzle contrasting melted chocolate on coated berries, melt remaining chips in same way and drizzle onto berries with a spoon or squeeze bottle. Food coloring may be added to the melted white chips, if desired. Store, uncovered or loosely covered, in fridge or cool place for up to 8 hours.
This is an updated post that was originally published February 11, 2011.