Angel Food Cake is one of those desserts that almost everyone likes. That makes it a great choice when you entertain. It's really hard to go wrong with this light, delicate cake. Originating in North America, angel food cake first became popular in the U.S. in the late 1800's. It's versatile enough to be served plain or topped with an endless combination of fruits, sauces, ice cream or whipped cream.
Angel Food cake is King-Man's favorite cake, so I've made my share of these through the years. For most of those years I used a mix. Honestly, I think the mixes are pretty darn good, and they are one of the easiest mixes ever. You add water to the boxed mix, beat it for a minute or so, pour it in a pan and bake. Easy as it gets. The mixes are way better than the ready-cooked angel food cakes in your grocery store bakery dept. When you are short on time, the mixes are a great option.
I'd always been a bit intimidated when it came to making an angel food cake from scratch. I guess I was afraid of the whole meringue thing, mixing it right, and having it rise properly as it cooks. But, not too long ago, I decided it was time to make this cake for real. From scratch. I played around with several recipes from Cooks Illustrated, Fine Cooking, and Betty Crocker. My first try tasted great, but didn't rise enough. I fiddled with the recipe some more, and my second try was just right--great flavor and it rose nice and tall. And it really wasn't hard, after all. I should have tried this years ago.
I made this again last weekend and got the kind of raves from King-Man (serious ooooing and aaaahing) that made me feel pretty secure about going public and sharing my recipe. Mine doesn't have any extra flavors. This is a traditional version--I use a combination of vanilla and almond extracts. You can play around with additional flavors if you like (citrus extracts and zest, cinnamon, cocoa powder, etc.)
Angel food cake is naturally fat free. Zero fat. The 12 egg whites are loaded with protein. So, as desserts go, it's not as bad for you as some. There's sugar, of course. This isn't a good choice if you're staying away from white carbs. But, for the occasional splurge, it's hard to go wrong with this classic cake.
Step-by-step photos for making Angel Food Cake.
Step 1. Assemble the ingredients. Cake flour (not self-rising), powdered sugar, granulated sugar, cream of tartar, kosher salt, vanilla extract, almond extract, eggs.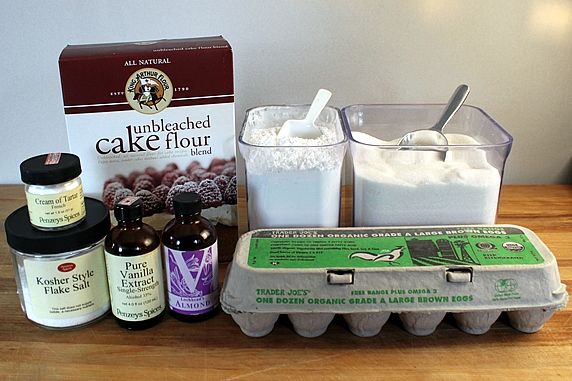 Step 2. Separate the egg whites from the yolks. You can do this the old-fashioned way by cracking each egg and shifting the yolk back and forth between the 2 shell halves until the white falls into a bowl. If you don't know how, there's a tutorial on separating eggs at wikihow.com.
I have a old gadget for separating egg whites that I got from Pampered Chef. There's a similar one at Amazon. If you don't separate eggs very often, it may not be worth it to have a gadget specifically for this task. But, I make enough angel food cakes and meringues that I love the ease and tidiness of this gadget. The one I have (pictured below) rests on the side of a bowl; you crack the egg into it, and the egg white falls into the bowl. Easy!
Because egg sizes vary, you need to measure your egg whites as you go. You need 1-3/4 cups. That was 12 large eggs for me. I cracked them directly into a measuring cup, so I knew when I had enough.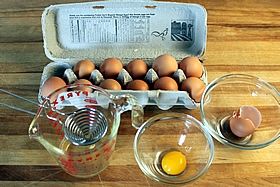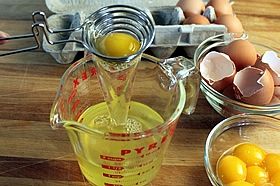 My 12 eggs measured just a smidgeon more than 1-3/4 cups--close enough.
Step 3. Sift the flour and powdered sugar together. I used a fine wire mesh strainer. Sift this mixture a total of 3 times--this is important for achieving a lightly textured cake. Set the sifted mixture aside.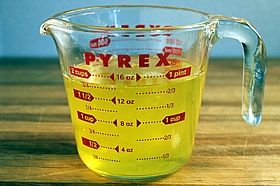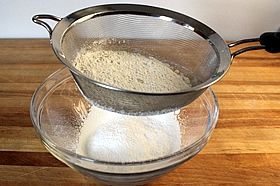 Step 4. Pour egg whites into mixing bowl. Using either a handheld or stand mixer, mix the eggs on medium-low until they start to get frothy.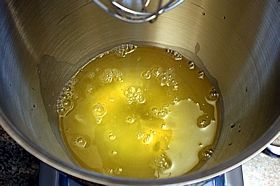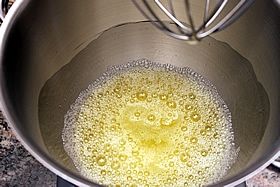 Step 5. Add the cream of tartar and salt, and mix on medium speed until soft peaks form--the peaks flop over when you lift the meringue with the beater or a spoon.
Step 6. Keep the mixer running on medium speed, and slowly add the granulated sugar one tablespoon at a time.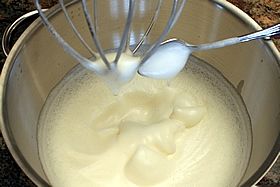 Step 7. With mixer still running, after approx. 1 minutes add the extracts.
Step 8. Keep mixing on medium speed until stiff peaks form--the peaks keep their pointed shape when you lift the meringue with the beater.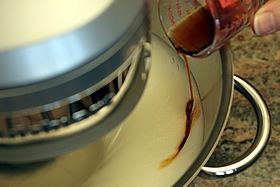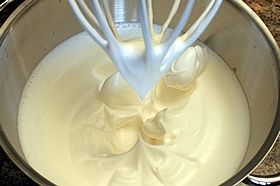 Step 9. Sprinkle 1/4 cup of the sifted flour/sugar mixture over the meringue. Using a large rubber spatula, gently fold it in.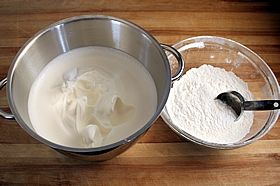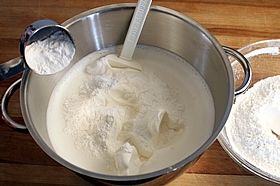 Fold the sifted mixture just until it disappears into the meringue. Then sprinkle on another 1/4 cup of sifted mixture and fold. Repeat until everything is folded in.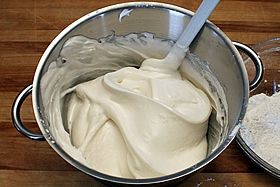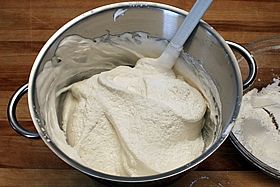 Step 10. Gently pour the mixture into a tube pan with a removable bottom, and smooth it with the spatula. Give the pan a couple of raps on the counter to remove any large air bubbles.
Why a tube pan? The center tube helps the cake rise higher as the batter clings to all sides of the pan.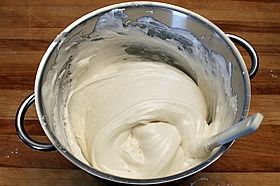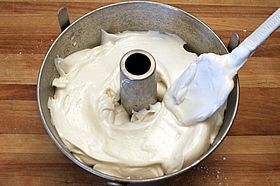 Step 11. Put it in the oven and bake it until the cracks in the top are dry, and the cake springs back when gently touched.
Step 12. Immediately upon removing the baked cake from the oven, invert it onto the neck of a bottle until it cools completely--approx. 2 hours. If your tube pan has prongs on the top, you can skip the bottle and rest the prongs on a cooling rack while the cake cools. The bottle or prongs keeps air circulating all around it as it cools. Inverting the pan helps the cake retain it's light texture.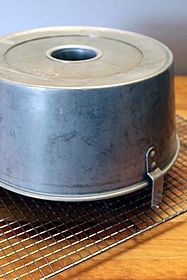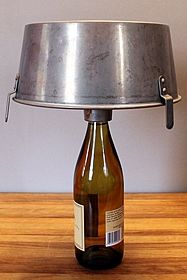 Done! Loosen the edges with a knife and remove the cake from the pan. You can put it on a plate with either the top or bottom showing. I like the rustic, cracked look of the top.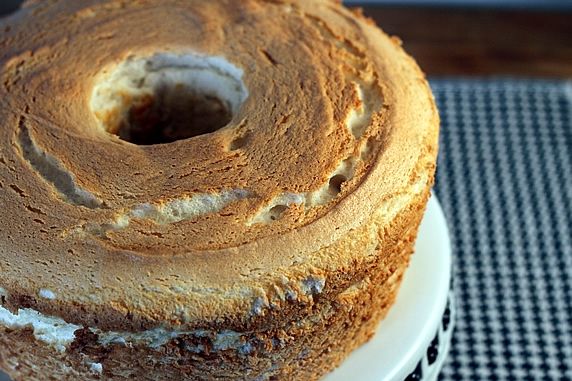 Slice the cake with a gentle sawing motion using a serrated knife. My bread knife works great.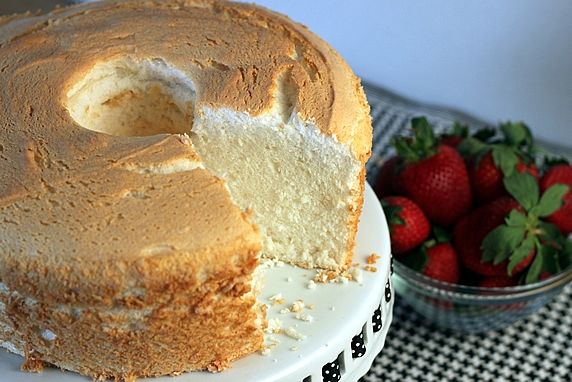 Serve it up and enjoy! A little slice of heaven right there.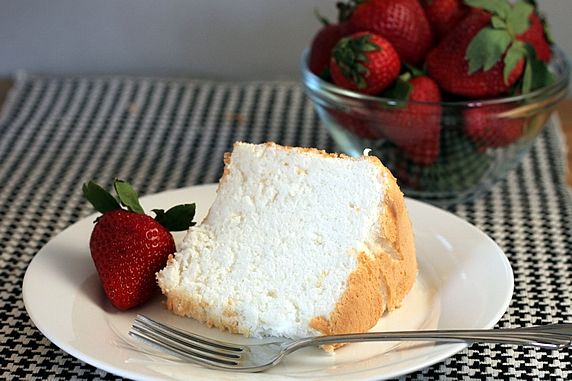 Check out this delicious recipe that includes angel food cake:
Click to view Angel Food Cake with Strawberries & Hot Fudge Sauce recipe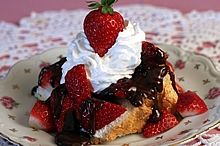 Make it a yummy day!
Heavenly Angel Food Cake
By Monica Servings: 10-12 servings
1-1/4 cups powdered sugar
1 cup cake flour
1-3/4 cups egg whites (approx. 12 large eggs)
1-1/2 teaspoons cream of tartar
1/2 teaspoon kosher salt
3/4 cup granulated sugar
1 teaspoon vanilla
1/2 teaspoon almond extract
--Separate egg whites into a measuring cup until you have 1-3/4 cups. Let sit for at least 30 minutes to reach room temperature.
--Put oven rack in lower-middle position; preheat oven to 325.
--Sift together the powdered sugar and flour. Repeat sifting two more times. Set aside.
--In bowl, using a stand or hand mixer beat egg whites on med-low speed until broken up and starting to froth. Add cream of tartar & salt; beat at medium speed until soft peaks form. Keep mixer running and gradually add granulated sugar, a tablespoon at a time. Add extracts and continue to beat until peaks are stiff and still glossy--careful not to overbeat.
--Sprinkle 1/4 cup of the sifted sugar/flour mixture over top of meringue; gently fold in with large rubber spatula just until sugar/flour disappears. Repeat, adding and folding remaining sugar/flour mixture 1/4 cup at a time. Gently pour batter into ungreased 10-inch tube pan. Rap pan on counter a couple of times to remove any large bubbles.
--Bake 45-55 minutes, until cracks are dry and springs back when lightly touched. Immediately invert pan onto the neck of a bottle or funnel for 2 hours or until cake is completely cool. Loosen edges of cake with a knife and remove from pan. Cut with light sawing motion, using a serrated knife.