Our kids are home for the weekend to attend a wedding and celebrate the 4th of July. St. Louis really knows how to celebrate the 4th. The Arch, the fireworks, the live music--we know how to do it right!
I wanted to make a few goodies to have on hand while our house was full of hungry 20-somethings. I saw a photo of similar dipped strawberries and thought these would be about as fast and festive as it gets. It took me 10 minutes to dip all of these. A few minutes in the fridge, and they were ready to eat. T-Man pulled the platter from the fridge within 5 minutes of arriving home from the airport last night.
In an earlier post, I explained how to make chocolate covered strawberries with a variety of toppings.
Click to view previous post:
Make Easy Chocolate Covered Strawberries with A Gourmet Flair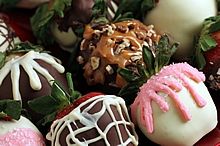 This red, white and blue version uses exactly the same technique. But, I thought you'd like to see how fun they are when customized with Independence Day Colors.
Step-by-step photos for making
4th of July Chocolate Covered Strawberries
Step 1. Assemble the ingredients: strawberries, chocolate chips (I prefer semi-sweet), white chocolate or vanilla chips, canola oil, red/white/blue sprinkles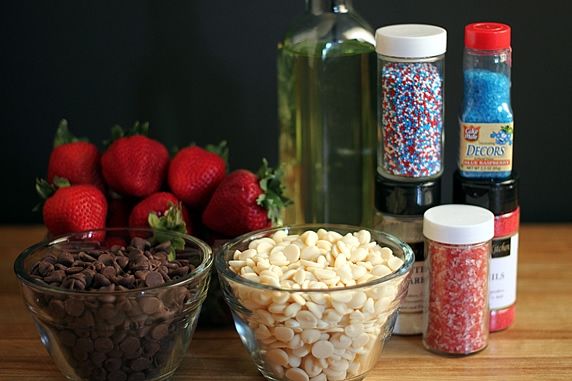 Use whatever combination of sprinkles you like. Sometimes you can buy them with the 3 colors already mixed. If not, you can mix your own. That's what I did with the coarse sugar sprinkles in the lower right bowl.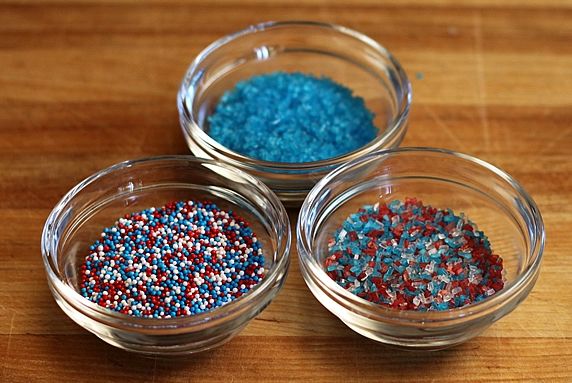 Step 2. Melt the white chocolate chips. Some people over-complicate this with a tedious, tricky tempering process. I've never bothered with that. I've always melted my chips in the microwave. For years. It's worked every time. The only way you can mess up is by overcooking the chocolate. Heat and stir the chips in 20-30 second intervals until the last chunks melt and stir in. Then stop heating. Adding a small amount of canola (or vegetable) oil, gives the melted chocolate a smoother, glazy texture and appearance.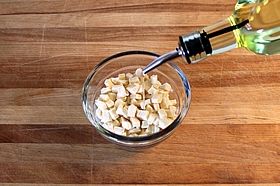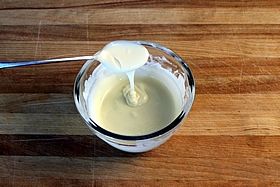 Step 3. Dip each berry in melted white chocolate. Swirl the berry around in the melted chocolate, covering it in a layer of chocolate almost to the top. Let chocolate drip off and scrape off excess against edge of bowl.
Step 4. Dip or roll it in sprinkles. While the chocolate is still wet, roll the berry in sprinkles.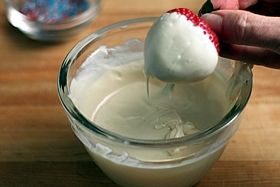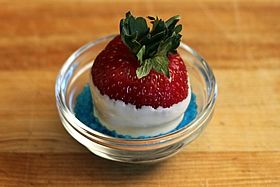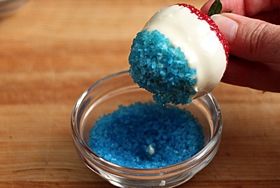 Step 5. Place the dipped strawberry on a tray lined with parchment or waxed paper. Let harden at room temperature; or put the tray in the fridge for 30 minutes to speed things up.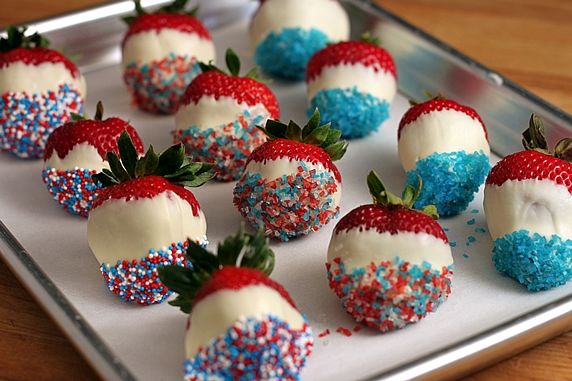 I repeated the same process with semi-sweet chips. Melting, dipping, and sprinkles.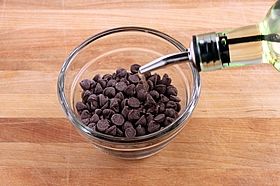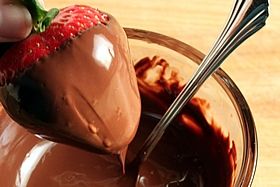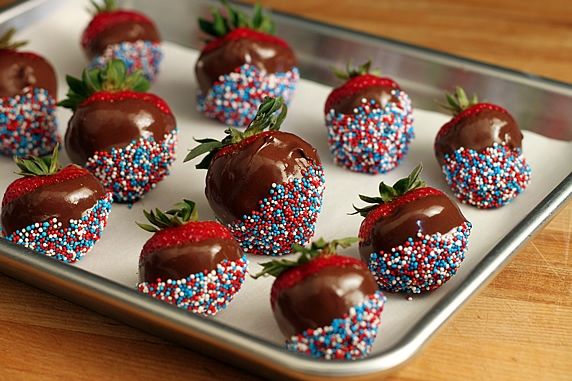 Storage tip: Keep these in a cool place or the fridge (uncovered or loosely covered) for up to 8 hours before serving. If stored longer, juice from the berries begins to slowly leak out of the bottom and pools at the base of each berry. They still taste good the next day, but the texture gradually gets mushier.
Serving tip: Arrange the finished berries on a platter, as pictured below. Or, place berries in individual paper cupcake liners before arranging them on the platter--this makes them easy to grab and eat.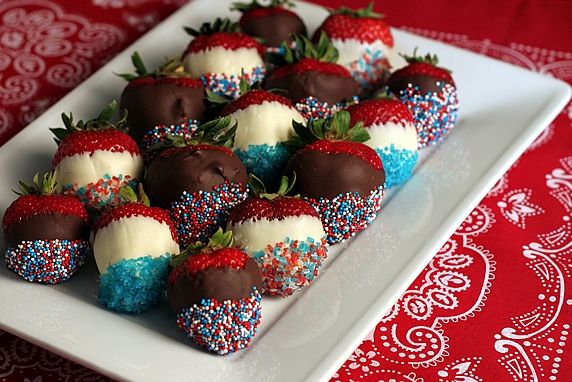 Now all you need are the fireworks!
Make it a yummy 4th of July!
Chocolate Covered Strawberries - Red, White, & Blue
By Monica Servings: makes 2 dozen
1 cup semi-sweet chocolate chips
1 cup white chocolate or vanilla chips
24 strawberries, washed and dried
2 tablespoons canola oil
red,white/clear & blue decorating sprinkles
Put semi-sweet chocolate chips in a microwave-safe bowl with 1 tablespoon canola oil. Cook on full power, checking at 20-30 second intervals, stirring each time. Stop heating when most, but not all, of the chips are melted--there should be a few chunks left. Stir until it is smooth and chips are completely melted. Be careful not to overcook. Divide out half of strawberries and dip in melted chocolate, holding by the stem, turning until berry is coated almost to stem; let excess drip off. Immediately roll or dip in sprinkles. Place on parchment or waxed paper lined pan. Repeat with remaining half of strawberries using melted white chocolate chips. Chill until chocolate is set--approx. 30 minutes. Store, uncovered or loosely covered, in fridge or cool place for up to 8 hours.