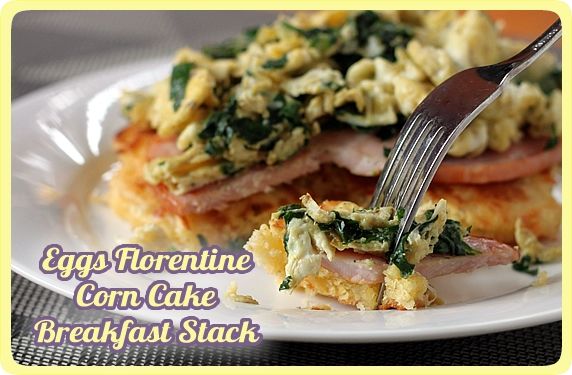 In a previous post, I shared my recipe for Corn Cake Toppers and showed how to serve them on top of chili and soup. I did a follow up post with a recipe for a Corn Cake Breakfast Stack with Bacon and Eggs. There are so many possible variations for the breakfast stack. Today's post is another of my favorite combos. These are great served with my Parmesan Hash Brown Cups.
These breakfast stacks have 3 layers of ingredients: eggs scrambled with fresh spinach, Canadian bacon, and a corn cake. That's it. Easy, nutritious and delicious. Here's how to make and assemble them.
Step-by-step photos for making
Eggs Florentine Corn Cake Breakfast Stacks
Step 1. Make a batch of corn cakes. You'll find step-by-step photos in my Corn Cake Topper post. Here's the downloadable/printable recipe:
Click to view & print Cheesy Corn Cakes recipe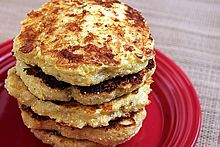 Step 2. Brown the Canadian Bacon in a skillet that's been coated with cooking spray.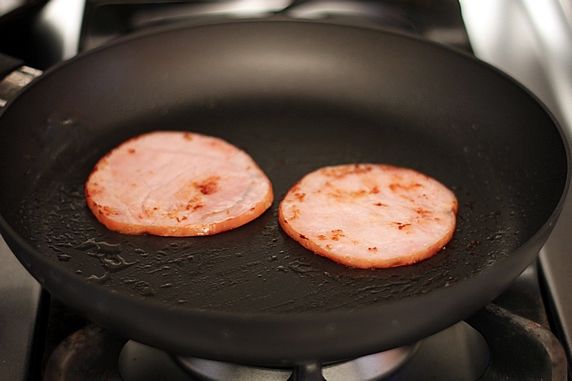 Step 3. Meanwhile, cut some fresh spinach into 1/4" shreds and toss it in a hot skillet that's coated with cooking spary. Cook just until it's wilted--this only takes a minute.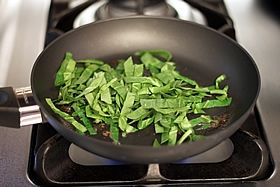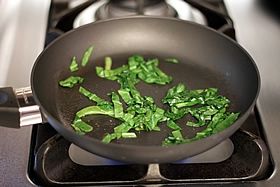 Step 4. Whisk the eggs and add them to the spinach. I use a 1:1 ration of whole eggs to eggs whites--reduces calories and fat, while you get a protein boost from the egg whites. These cook up quickly.
Step 5. Season eggs with salt and pepper to taste.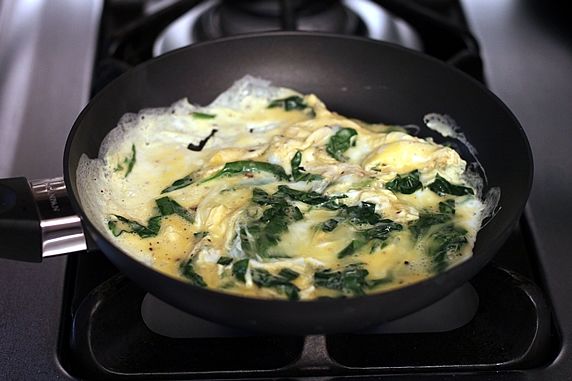 Step 6. Put a warm corn cake on a plate.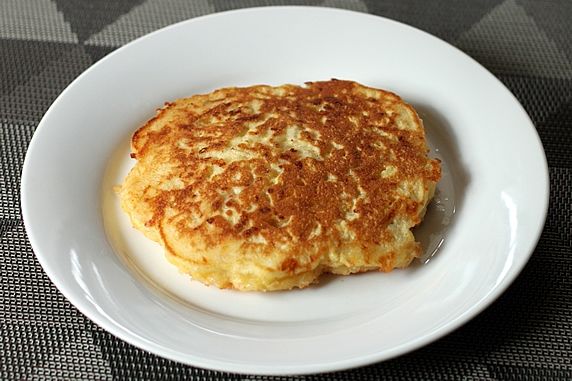 Step 7. Add the Canadian Bacon.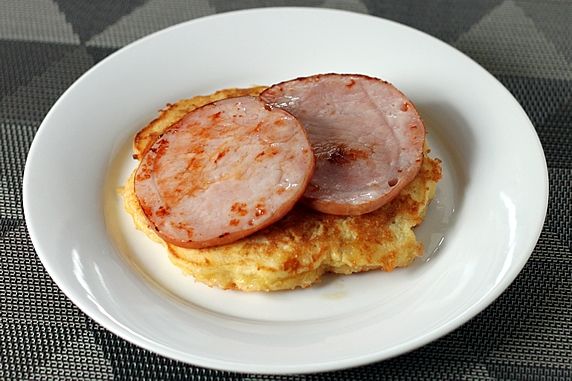 Step 8. Top it with the egg/spinach mixture.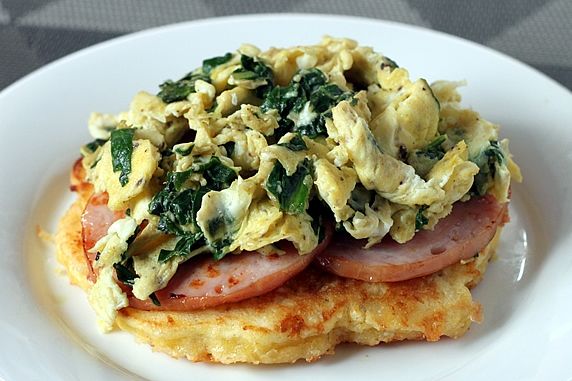 Done!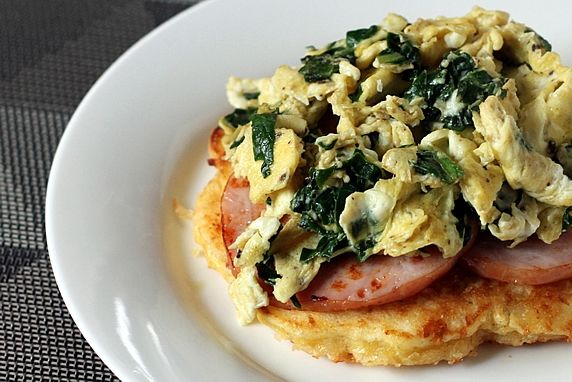 That's it. Easy, huh?
VARIATIONS TO TRY. You can mix it up with different layer combinations and toppings. There are so many possibilities. Here are a few.
Egg layer- fried, poached, scrambled, or a sliced boiled egg
Meat layer - bacon, ham, Canadian bacon, sausage patty, crab cake, chorizo
Veggie layer - spinach, avocado, tomato, roasted peppers, sauteed mushrooms or onions, sprouts, fresh basil leaves, hash browns
Sauce on top - salsa, tabasco, hollandaise, guacamole, gravy, cheese
MAKE IT CHEESY. Try adding cheese on top and melting it under the broiler.
FEEDING A CROWD? Set up a corn cake breakfast stack bar with a variety of layer and topping options, and let everyone build their own. Fun and easy.
This is stacking up to be a delicious breakfast. So good.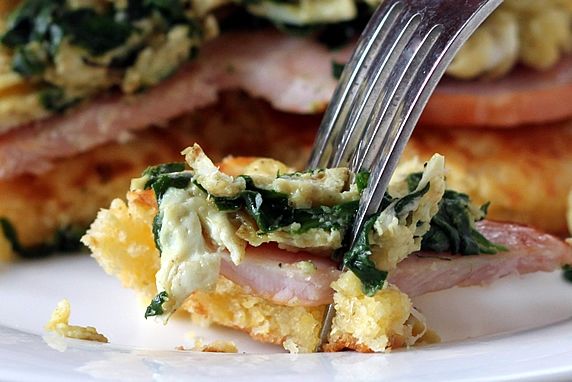 Make it a yummy day!
Corn Cake Breakfast Stack with Eggs Florentine & Canadian Bacon
By Monica Servings: 4 servings
Ingredients
4 whole eggs
4 egg whites
2 cups fresh spinach, cut into 1/4" wide shreds
8 slices Canadian bacon
4 cheesy corn cakes (find corn cake recipe at www.TheYummyLife.com/recipes/110)
Directions
Coat a skillet or griddle with cooking spray and brown Canadian bacon over medium-high heat. Meanwhile, whisk together eggs and egg whites until blended. Coat another skillet with cooking spray and heat on med-high, add spinach strips and cook just until wilted (approx. 1 min.). Lower heat and add eggs. Cook, stirring occasionally, until eggs are set. Salt and pepper to taste.
Assemble 4 breakfast stacks in this order: corn cake on the bottom, 2 slices Canadian bacon on top of corn cake, 1/4 of scrambled egg mixture on top of the Canadian bacon.