Have you joined the Pinterest craze yet? It's all the buzz in social networking. I have been using it since last fall (thanks to an invite from my friend, Sheri at The Loopy Ewe), and I'm totally addicted. I've gone from not quite getting what all the fuss was about in the beginning, to now not knowing when to stop pinning and repinning. Apparently, I'm not alone. Pinterest is growing at lightening speed; in 2011, it grew from 418,000 users in May to 7.5 million in December. (source) Its addictive nature is hard to understand until you join and start pinning. (read more)
What is Pinterest?
Their tagline: "A place to organize and share things you love"
It's a visual bulletin board for your personal use. How many times do you google something or find a website you want to remember, or find a great idea or product online, and you want to put that info. somewhere so you can easily find it again? Pinterest is a place to store links to all of these. You set up visual boards, create categories that are of interest to you, and pin an image on your board that links to the source.
It's a vast shared bulletin board for public use. It's a place to share and obtain new ideas from the growing community of other Pinterest users. All pins and boards are public. You and your friends can follow each other's boards, and you can search the entire Pinterest network for others who have pinned topics of interest to you. Eventually, you'll be following more strangers than friends as you find each other through your mutual tastes and interests. That's part of the fun.
Pinterest is both entertaining and useful. It gives me a place to store images and links to every yummy little thing I come across on the internet. Plus, it opens a huge, new world of ideas and links via other participants in the Pinterest network. It's become a great source of information and inspiration. It can do that for you, too. No matter your interests, hobbies, or events you may be planning, Pinterest can help you organize, share, and grab lots of great ideas.
Maybe you've already joined and haven't really gotten in the Pinterest groove yet. Maybe you haven't joined and want to learn more. Either way, this post is for you. I'm going to run through what I've learned as an avid Pinterest user. I'm no expert; these are all trial-and-error tips I've figured out along the way.
So, here we go...
How to Join Pinterest. It's simple. Just go to Pinterest.com and click on the prompt to JOIN. (You used to have to be invited to join, but that no longer is the case.)
Learn the Lingo. (source: Pinterest help page)
PIN -

A pin is an image added to Pinterest. A pin can be added from a website using the Pin It button, or you can upload personal images from your computer. Each pin added using the Pin It button links back to the site it came from. (Seinfeld would surely have had an episode about whether or not something is "pin-worthy".)

BOARD -

A board is a collection of pins categorized however you choose. A board can be created on any topic, such as Recipes, Wedding Ideas, Books to Read, Health & Fitness, or Wishlist. You can add as many pins to a board as you want and create as many boards as you want.

FOLLOWING - "Following All" means you'll have all of a user's new pins on all their boards shown to you in real-time on your Pinterest Home Page. If the user makes new boards, you will automatically follow them. You can follow individual boards (intead of all of them) if you're only interested in seeing a user's pins to specific boards. You can unfollow boards and users at any time--they will not be notified (no hurt feelings).
Getting started. Pinterest can be a bit overwhelming at first. Just dive in. You will soon discover how intuitive it is to create boards, add pins, and browse the unlimited pins elsewhere on Pinterest.
1. I really, really, REALLY encourage you to install a "Pin It" button on the tool bar of your browser. Once it's there, it is unbelievably easy to pin images from any website: products you might want to buy, decorating ideas for your home, recipes, etc.


Click here to get the PIN IT button & view a "how to" video.
2. Browse around other Pinterest boards to get a feel for this. If you have friends who are on Pinterest already, look at their boards and get ideas for categories that will work for you. You can check out my boards here.
3. Set up your personal Profile & Boards page. (see a sample below)
4. Start pinning. (WARNING: You have entered a time suck...once you start, you may not be able to stop!)
Universal Top Bar Features
These appear at the top of every Pinterest Page so you can easily navigate around the site from anywhere.
(Click on image below for larger pdf view or to print it.)


How to Create Pins from Websites
When you find something on a website that you'd like to pin to a Pinterest board, follow these easy steps.
(Click on image below for larger pdf view or to print it.)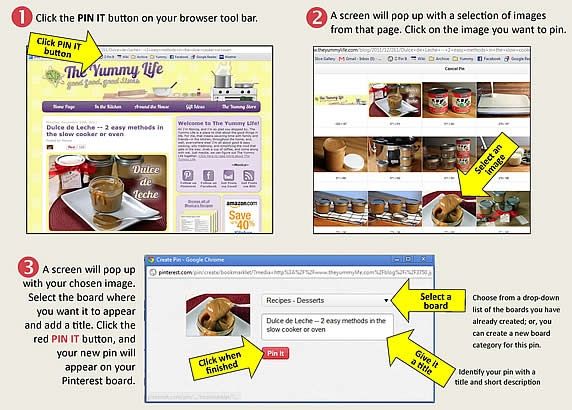 How to Create Pins Using Personal Photos
Maybe you've got your own ideas to share on your Pinterest board. Take photos of how you've organized, decorated, or created something in your home, or share scenic photos from a favorite places. Transfer the photos to your computer and upload them to your Pinterest boards. Here's how:
click ADD on the top bar of any Pinterest page

click UPLOAD A PIN

click CHOOSE A FILE

select an image file from your computer

choose a board and title for the image

click PIN IT
Keep in mind that Pinterest is a place to display images, not paragraphs of content. So only upload photos that are self-explanatory (along with your brief title/description) or link to a website with a full explanation, recipe, instructions, etc.
Navigating Your Profile Page
Here's an image of my profile page and boards with the different features identified. To get to your profile page from anywhere on Pinterest, simply click on your name in the upper right corner, then click around and explore the options.
(Click on the image for larger pdf view or to print it)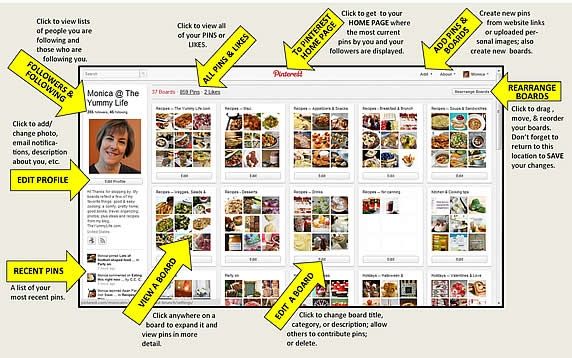 It's easy to add & delete boards, edit their titles, and add and delete pins. So, don't sweat having every board perfectly defined and titled from the start. Just get going. You can go back and do some house cleaning later. I've reorganized my boards several times already.
Navigating Your Own Boards
From your Profile Page, click on any of your boards to view everything you have pinned on that board. Here's an example of my board of Organization tips.
(Click on the image for larger pdf view or to print it)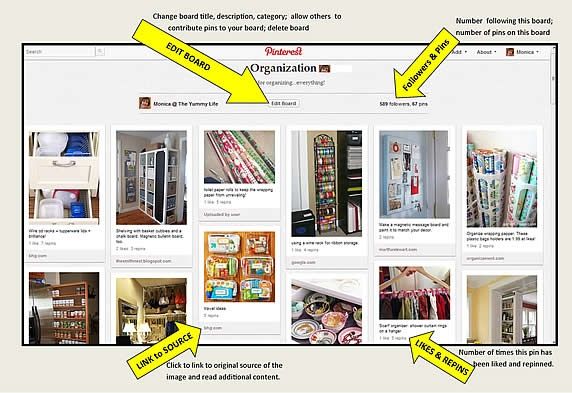 A Closer Look at A Pin
Click on an individual pin from any board or your Home page, and here is what you'll see.
(Click on the image for larger pdf view or to print it)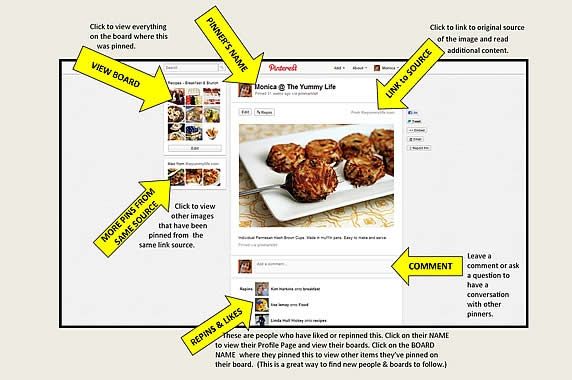 There are only minor differences between viewing images pinned by you or someone else.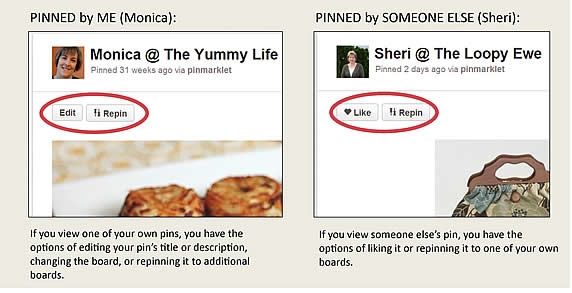 Navigating your Home Page.
Click on the Pinterest logo in the top bar to get to your Home Page. This page is similar to your news feed in Facebook. Your Home Page shows the most current pins by you and those you follow. Every time there's a new pin by you or them, it shows up here. If you want to make sure you haven't missed any new pins by others, scroll down this page until you hit the last pins you saw in your previous visit. Repin anything you like along the way. You can also browse the entire Pinterest network from here.
(Click on the image for larger pdf view or to print it)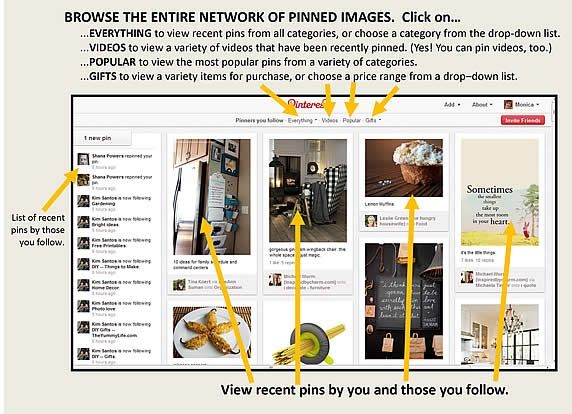 Browsing and Following Other Boards.
You may choose to FOLLOW ALL of another person's boards, or you may pick and choose only some of their boards to FOLLOW or UNFOLLOW. Any time pins are added to boards you've chosen to follow, they will show up on your Home Page. You may return to their boards and change these follow/unfollow settings at any time.
(Click on image below for larger pdf view or to print it.)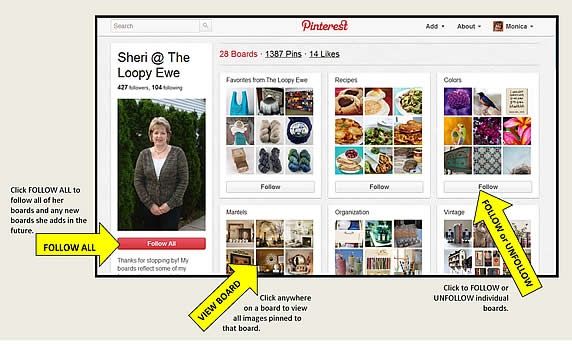 Repinning from anywhere.
Whether you're viewing new pins from those you follow or pins from browsing the Pinterest network, it's easy to repin images to your own boards. Simply hover your mouse over the pin's image and choose to REPIN, LIKE or leave a COMMENT. If you REPIN something, you will be prompted to assign it to one of your boards. If you LIKE something, it doesn't show up on your boards; however you can view everything you've liked from your Profile Page.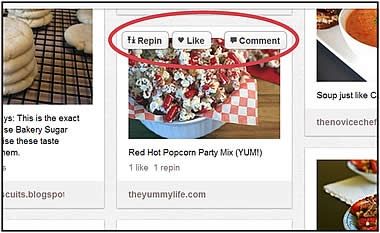 More tips.
Please add questions or additional tips in the comments section of this post. Pinterest is new enough and changing fast enough that we can all benefit from having an ongoing Pinterest-ing conversation.
Today's post is geared towards beginners. In upcoming posts, I will share
Tips for making the most of your pins and boards
Pinterest etiquette
Tips to help bloggers make the most of Pinterest
Until then,
Make it a yummy day!