Since I started making our new favorite Vanilla Bean Ice Cream this summer, King-Man and I have been trying out different toppings. This raspberry sauce is our definite favorite. It's a delicious topping or mix-in for lots of other things, too:
cheesecake
short cake
angel food cake
waffles, pancakes, and French toast
yogurt
smoothies
layered in a parfait
spread on toast, bagels, or muffins in place of jam
Many raspberry sauce recipes have you strain out the seeds and pulp to make a smooth syrup. I prefer a more rustic sauce with the texture and fiber of the fruit left in. Plus, it's easier this way. But, you can pour it through a metal mesh strainer if you prefer a smoother sauce.
I figured out how to make this sauce in the microwave, just to keep it simple and avoid using my stove during our heat wave. Boy, is this easy. Boy, does it taste yummy. Last night King-Man crowned vanilla bean ice cream topped with this sauce as his #1 favorite dessert. (To be honest, that could easily change as soon as I make another of his favorites. Like Velvet Hot Fudge Sauce.)
Nutritional Information (2 tablespoon serving): 51 calories, .2g fat, 12.8g carbs, 2g fiber, .4g protein; WeightWatchers PointsPlus: 1
Step-by-step photos for making
Microwave Raspberry Sauce
Step 1. Assemble the ingredients: raspberries (fresh or frozen), brown sugar, fresh lemon juice.
ABOUT THE RASPBERRIES:
Frozen raspberries are picked at their peak of ripeness and often provide consistently better flavor and deeper color than fresh grocery store raspberries. I choose frozen over fresh, unless I have access to homegrown or vine-ripened fresh raspberries.
If you're using frozen raspberries, they do not need to be thawed before making this sauce. They'll thaw quickly as they cook in the microwave.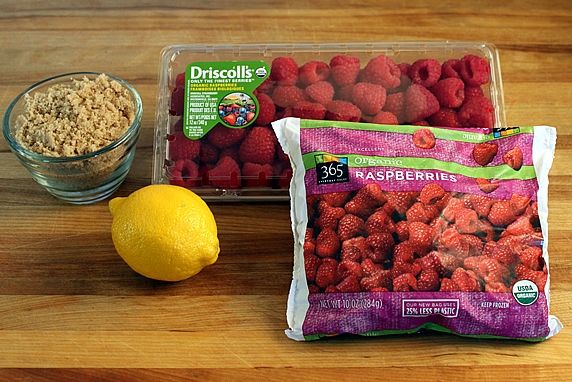 Step 2. Measure 2 cups of the raspberries and add them to a 2 quart microwave-safe bowl. Save the remaining raspberries to add in later. (I'm using frozen raspberries in the batch pictured here.)
Step 3. Add the brown sugar. (You can substitute white sugar--I tested it both ways, and they both were good. However, I think the brown sugar gives the sauce a richer taste and color.)
Step 4. Add 2 tablespoons of fresh lemon juice. 1 lemon should yield enough juice.
Step 5. Give all that a quick stir.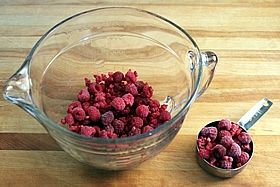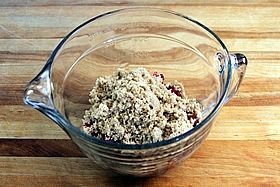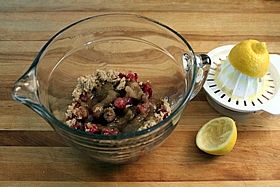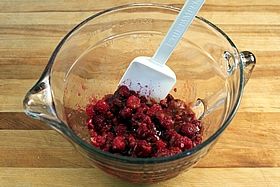 Now it's time to put it in the microwave. First, I want to show you why it's important to use a bowl that is at least 2 quarts. This is what happened when I tried to cook the sauce in a 1 quart bowl. The sauce foamed up as it cooked and spilled over the side resulting in a big sticky puddle of wasted sauce in the microwave. What a mess: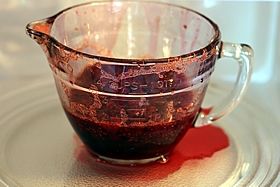 Step 6. Microwave, uncovered, at full power for a total of 8 minutes, stopping and stirring after 4 minutes.
Step 7. Remove the bowl from the microwave and stir the remaining raspberries into the hot liquid, just until combined. Stirring these whole raspberries in at the end results in a chunkier sauce, because the uncooked ones hold their shape--they cook just slightly while they sit in the hot mixture. Leaving these visible whole raspberries makes the sauce prettier and more appealing.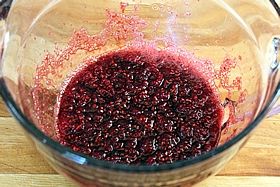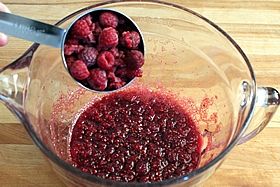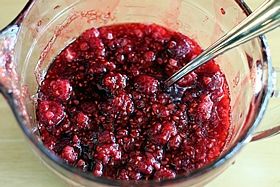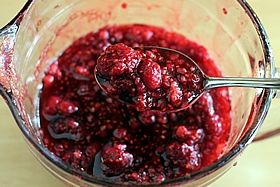 Step 8. Let the sauce sit on the counter for 30 minutes uncovered. It will thicken some as it cools.
Step 9. Cover and put it in the fridge to cool completely.
It will keep for up to a week. Maybe longer, but ours didn't last long enough to find out.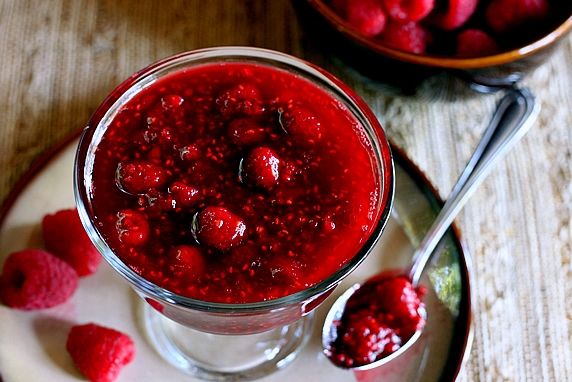 It tastes as good as it looks. And, you can make it in under 10 minutes (not counting the chill time). Love the quick, easy, yummy combo.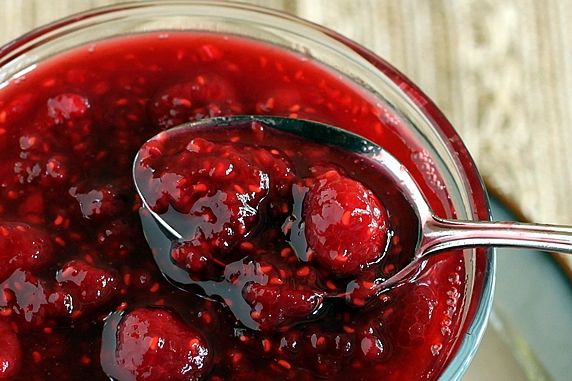 Make it a yummy day!
Here's a recipe you might like that uses this raspberry sauce:
Click to view Eton Mess Sundae recipe
You might also like this recipe:
Click to view Microwave Blueberry Sauce recipe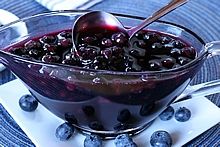 Microwave Raspberry Sauce
By Monica Servings: makes 1-1/2 cups
Ingredients
12 oz. (approx. 3 cups) fresh or frozen raspberries, divided
3/4 cup packed brown sugar
2 tablespoons fresh lemon juice (1 lemon should yield enough juice)
In 2 quart microwave-safe bowl, stir together 2 cups of the raspberries, brown sugar and lemon juice. (Don't use a smaller bowl or the mixture may overflow as it cooks.) Microwave uncovered at full power for 8 minutes total, stopping and stirring after 4 minutes. Remove from microwave and stir remaining raspberries into hot mixture just until combined. Cool at room temperature, uncovered, for 30 minutes; sauce will thicken some as it cools. Cover and store in refrigerator. Keeps for at least 1 week.

Serve over ice cream, cheesecake, angel food cake, pancakes, waffles or toast.

HINTS:
--Frozen raspberries are picked at their peak of ripeness and often provide consistently better flavor and deeper color than fresh grocery store raspberries.
--If using frozen raspberries, they do not need to be thawed before making this sauce.

Nutritional Information (2 tablespoon serving): 51 calories, .2g fat, 12.8g carbs, 2g fiber, .4g protein; WeightWatchers PointsPlus: 1
| | | |
| --- | --- | --- |
| | | |