This post was updated 9/15/11.
I grew up in New Mexico and Arizona, so I have a life-long connection to Mexican food. It's my favorite food. I like it spicy. It's the first kind of food I ever learned to cook. When we were very young (still in elementary school), my sister Nelda and I could prepare an entire Mexican meal of enchiladas and taquitas. It was kind of our sister specialty. Nelda made taquitas the last time we were together--a delicious comfort food from the past.
I don't know why it's taken me so long to blog about some favorite Mexican food recipes. The time has come. I'm starting with salsa. It's the condiment that must accompany any Mexican meal. Plus, it's great for snacking. Hard to find a better or easier snack than salsa and chips.
The recipe I'm sharing today is a simplified version of a roasted salsa that I normally make the "long" way--firing up the grill and roasting the chiles, and oven roasting fresh tomatoes, garlic and onions. When tomatoes and chiles are abundant in the farmer's markets in the summer, I can enough salsa to get us through the fall and winter. If you're interested in making roasted salsa from scratch with all fresh ingredients, here's that recipe. That post and recipe include canning instructions, too.
Today's post, however, is an easier version of my roasted salsa recipe that can be made in a fraction of the time by using good quality canned fire roasted green chiles and tomatoes. That way you get the fire roasted flavor and skip the time it takes to do your own roasting and peeling. Everything gets chopped in the food processor, so it goes together really quickly. If you don't have a food processor, you can chop everything by hand; it will just take a little longer.
Step-by-step photos for making Easy Fire Roasted Salsa
Step 1. Assemble the ingredients: garlic, onion, fresh jalapenos, canned fire roasted green chiles (Ortega brand is recommended, if available--way better than other brands I've tried), canned diced fire roasted tomatoes (Muir Glen organic brand recommended, if available), cilantro, oregano, cumin, pepper, salt, lime juice, cider vinegar.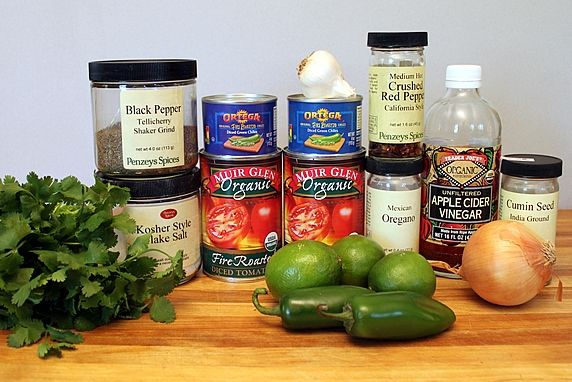 Step 2. Add garlic to food processor. Process until minced.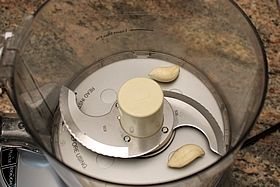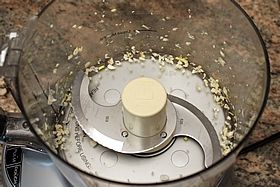 Step 3. Quarter the onion, slice the jalapenos and add them to the food processor. Process until minced.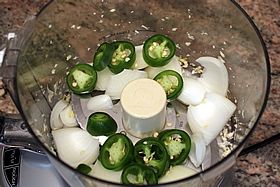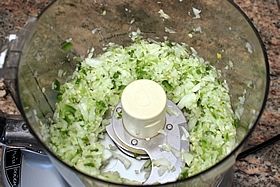 Step 4. Measure a loosely packed cup of fresh cilantro leaves; add them to the food processor. Don't mix yet.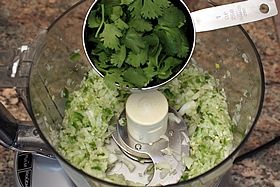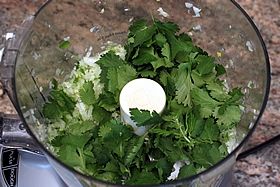 Step 5. Add the canned green chiles and tomatoes. Don't mix yet.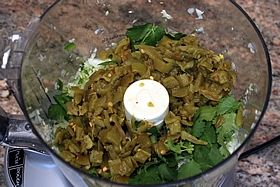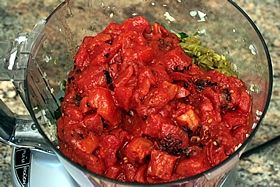 Step 6. Add the lime juice and vinegar. Don't mix yet.
ABOUT THE VINEGAR: You can omit or reduce the vinegar, if you prefer. Me? I like the tangy flavor the vinegar contributes, but that's a personal preference. The strength of the vinegar taste will melow if you make and refrigerate the salsa 4-6 hours before serving. Overnight is even better.
Another benefit of the vinegar is that it acts as a preservative. If you use the full amount in the recipe, it extends the shelf life of the salsa to up to 2 weeks in the fridge. Without the vinegar, it should be eaten within a few days.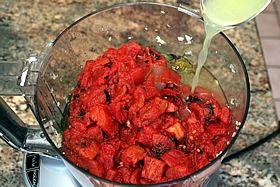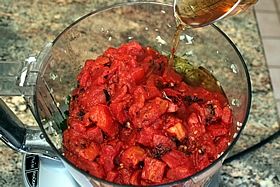 Step 7. Add the oregano, cumin, salt and pepper. (You can use regular oregano; but if you can find it, Mexican oregano is preferred.)
Step 8. Now you can mix it. Pulse the mixture a few times until it's the chunkiness that you prefer. It doesn't take much, so use a light touch. I pulsed mine 5-6 times.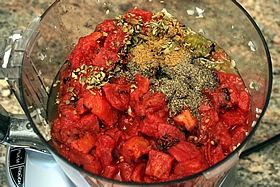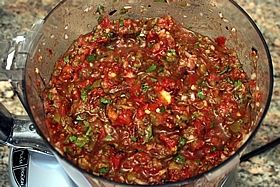 I like mine moderately chunky; but you can pulse it a few more times, if you like it smoother.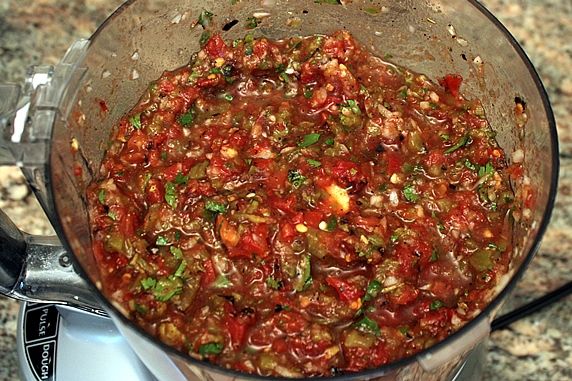 TASTE AND ADJUST THE SALT & HEAT: Give it a taste test and add some more salt if it needs it. If it doesn't have enough heat, add some red pepper flakes. Start with 1/2 teaspoon and go from there. If I'm making salsa for a party, I usually divide the salsa in half and add some heat to some of it. That way I can serve a mild and hot version of the salsa.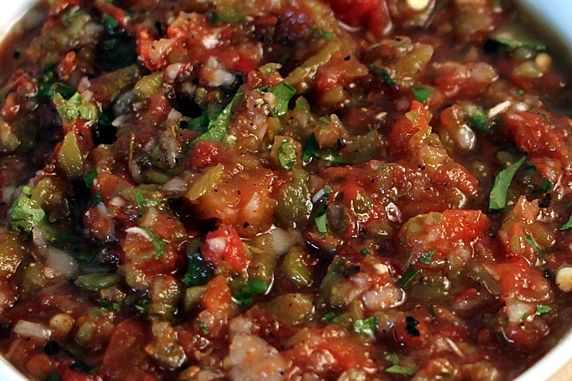 Gotta scoop it up with some chips now. That's one great snack right there.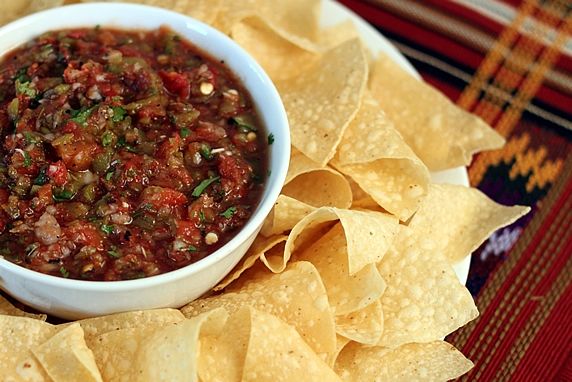 This recipe makes 5 cups. If that's more than you can eat, you freeze some of it. Or, it's easy to cut the recipe in half (1 can of tomatoes and green chiles instead of 2, etc.).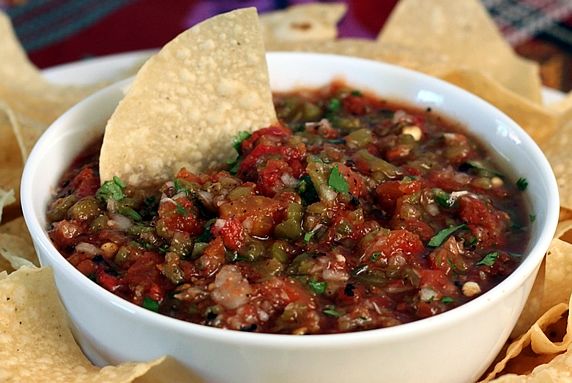 Make it a yummy day! OLE'!
Here are links to my other roasted salsa recipes;
they are made from scratch using fresh ingredients and require more time:
View Roasted Salsa recipe (small batch)
View Roasted Salsa for Canning recipe (big batch)
Easy Fire Roasted Salsa
By Monica Servings: makes 5 cups
Ingredients
2 garlic cloves
1 small onion
1/4 cup fresh jalapeno slices (1-2 peppers)
2 (4 oz) cans diced fire roasted green chiles
2 (14.5 oz) cans diced fire roasted tomatoes
1 cup fresh cilantro
1 tablespoon dried oregano (Mexican preferred, if available)
1 tablespoon ground cumin
1 tablespoon ground black pepper
1-2 teaspoons kosher salt
1/4 cup lime juice
1/4 cup cider vinegar (optional, omit or reduce to taste)
1/2 to 1 teaspoon crushed pepper flakes (optional; add/adjust for a hotter salsa)
Directions
In food processor, add garlic and process until minced. Quarter the onion and add it with sliced jalapenos. Process until minced. Add green chiles, tomatoes, cilantro, oregano, cumin, pepper, 1 tablespoon salt, lime juice, and vinegar. Pulse 5-6 times until desired consistency is reached. Add more salt to taste, if needed. For more heat, add crushed pepper flakes to taste. Refrigerate for 4-6 hours or overnight to allow flavors to blend and mellow.

Salsa may be eaten fresh, or it can be frozen. When full amount of vinegar is used, it can keep in refrigerator for up to 2 weeks.

Recipe updated 10/27/11.
| | | |
| --- | --- | --- |
| | | |