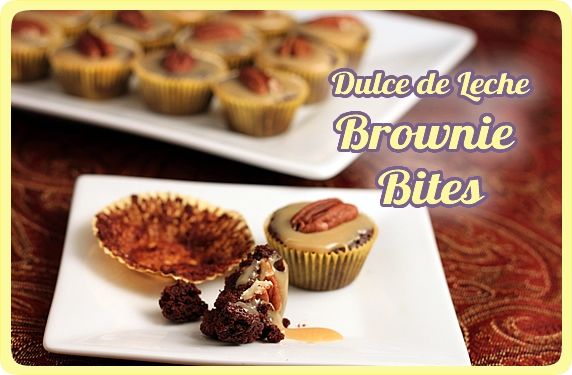 I really mean it. You'd never guess these are made with whole wheat flour and reduced fat. The chocolate trifecta of dark chocolate chunks, melted chocolate, and cocoa powder in the brownie batter completely masks the ww flour. They taste rich, chocolaty, and decadent. The Dulce de Leche puts them over the top.
I first came up with this recipe while preparing for our series of Mexican Buffet Dinner Parties last fall. I wanted something chocolate on the dessert table, because, well, it's simply required. I added the Dulce de Leche as a nod to Mexico in keeping with the theme of the meal. What a combo. King-Man wouldn't want me to share with you how many of these I saw him consume at one sitting. It was a lot reasonable amount.
I started with a brownie recipe from Cooking Light, swapped out the white flour for whole wheat, baked them in mini-muffin tins, and topped them with Dulce de Leche. The pecans on top are optional--I made some without the nuts to satisfy the nut haters in the crowd. Although this brownie recipe is considered lower in fat (it has less fat than most brownie recipes), it has enough butter to add rich flavor. The whole wheat flour and dark chocolate have health benefits that may make them a healthier alternative than many dessert recipes. Making these in mini-muffin tins makes them easy to serve on a party platter, but is also good for portion control.
WEIGHT WATCHERS PointsPlus: 2 points per Dulce de Leche Brownie Bite
SPEED SCRATCH OPTION: For a quicker/easier approach, you could use a brownie mix and buy ready-made dulce de leche (available in the Mexican aisle of some grocery stores). That would make these a snap to make.
Or, make them completely from scratch. It's really not hard, and so worth the extra effort. Here's how.
Step-by-step instructions for making
Dulce de Leche Brownie Bites
Step 1. Assemble the ingredients: whole wheat pastry flour, sugar, unsweetened cocoa, brown sugar, baking powder, salt, bittersweet chocolate chips (or a bar cut into chunks), skim milk, butter, vanilla, eggs, dulce de leche, pecan halves (optional)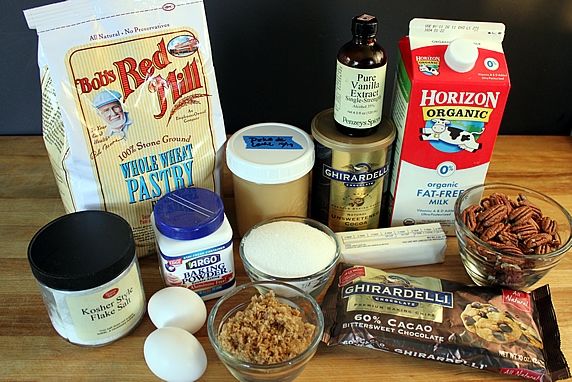 You can use store-bought dulce de leche (some grocery stores carry it in their Mexican aisle), but it's really easy to make your own. Here's my recipe:
Dulce de Leche -- 2 Easy Recipes in the Oven or Slow Cooker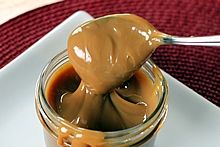 Step 2. In a small microwave-safe bowl, combine half of the chocolate chips with the skim milk and microwave on high for one minute, stirring after 30 seconds. Set that aside and let it cool a bit while your preparing the remaining ingredients.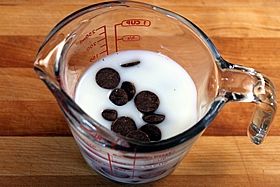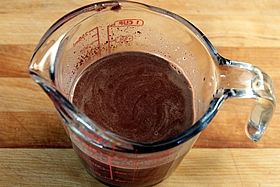 Step 3. In a large bowl, whisk together the flour, cocoa powder, brown sugar, baking powder and salt. Set that aside.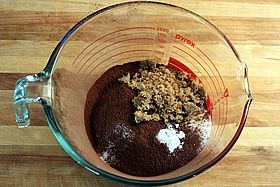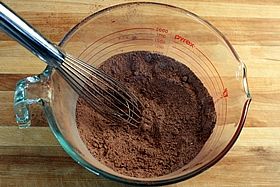 Step 4. Chop the remaining chocolate chips into smaller pieces. You want them a little bit chunky so that there are pockets of yummy chocolate when you bite into the brownie.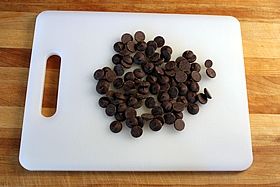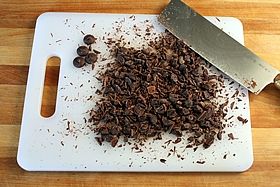 Step 5. In a medium bowl, whisk together the eggs and vanilla.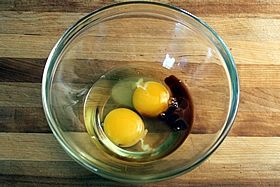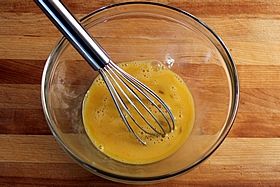 Step 6. Whisk in the chocolate and milk mixture. (Note: the melted chocolate mixture should have cooled a bit; if it's too hot, you'll end up with scrambled eggs.)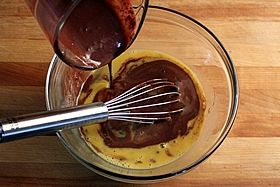 Step 7. Melt the butter and whisk it in.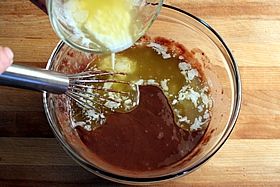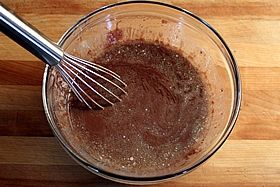 Step 8. Add the chopped chocolate and wet mixture into the dry ingredients. Stir just until thoroughly combined.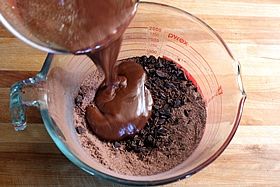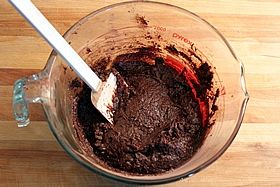 The batter will be very thick.
Step 9. Distribute the batter among the 48 mini muffin tins. I used a small scoop to make the task easier.
click here for Amazon link to mini muffin tins
click here for Amazon link to small scoops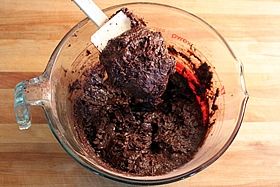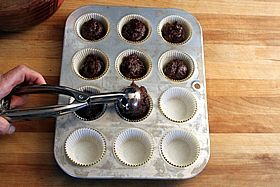 Step 10. Bake for 12-14 minutes until toothpick inserted in center comes out with moist crumbs clinging. Be careful not to overcook them, or they will turn out dry. Traditional brownie recipes get their moisture from loads of butter and other fat. Although these have less fat, you can still achieve a moist, fudgy texture as long as you don't overbake them. That's the key.
Step 11. Leave them in the muffin pans while they cool on a baking rack.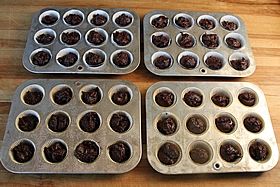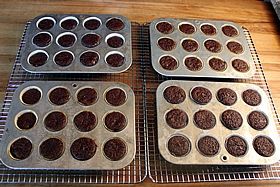 Step 12. Use a toothpick to poke 5 or 6 holes in each brown bite. That way the dulce de leche can penetrate each one.
Step 13. Spoon 1 teaspoon of dulce de leche on top of each brownie bite. If the dulce de leche is too thick to spread it, zap it for a few second in the microwave to thin it some.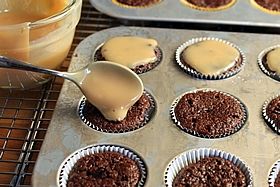 Step 14. If desired, top each brownie bite with a pecan half.
Other optional toppings: chopped nuts, mini chocolate chips, toffee bits, M&Ms, colored sprinkles to match a holiday or occasion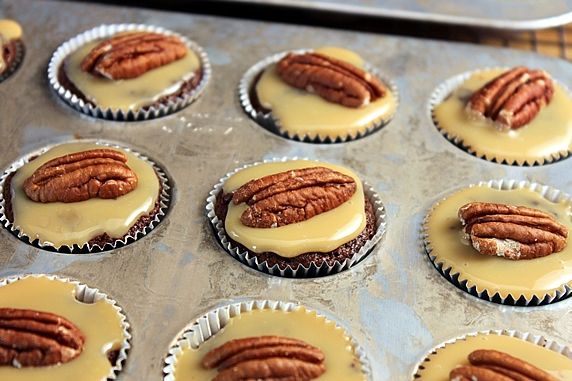 They're ready to serve and eat right away.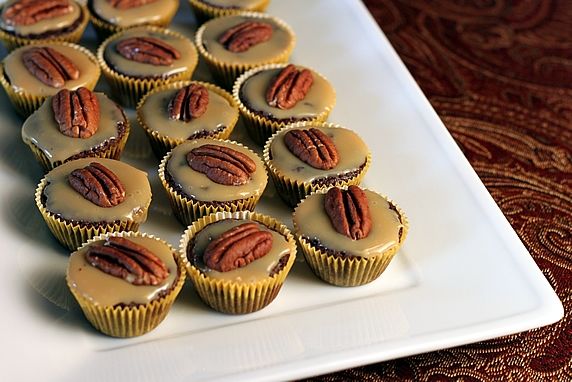 MAKE-AHEAD & REFRIGERATE OR FREEZE. You can cover and refrigerate them for up to 2 days, or freeze them for at least 2 weeks (maybe longer, but I haven't tested a longer freeze time). Bring them to room temperature before serving.
The combination of gooey dulce de leche and rich, dark chocolate is some kinda wonderful.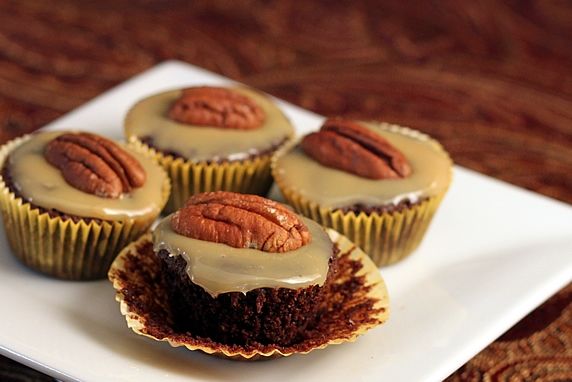 That is one fabulous bite.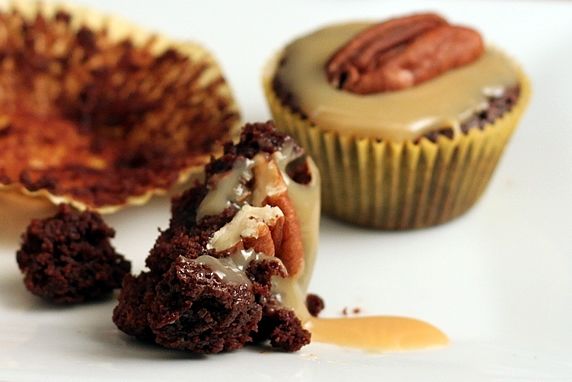 Make it a yummy day!
You can read all of my tips and other complementary menu items
that were served our Mexican Buffet Dinner Party here:
Click to view A Mexican Buffet Dinner Party
Dulce de Leche Whole Wheat Brownie Bites
By Monica Servings: 48 mini muffins
Ingredients
1 cup bittersweet chocolate chips, divided; or bar chopped into chunks
1/3 cup fat-free milk
3/4 cup whole wheat pastry flour
1 cup granulated sugar
3/4 cup unsweetened cocoa
1/2 cup packed brown sugar
1/2 teaspoon baking powder
1/4 teaspoon salt
2 large eggs
1 teaspoon vanilla
6 tablespoons butter, melted
1 cup Dulce de Leche (store bought; or to make your own, find recipe at www.TheYummyLife.com/recipes/200)
48 toasted pecan halves (optional)
other optional toppings: chopped nuts, mini chocolate chips, M&Ms, colored sprinkles, chopped peanut butter cups, toffee bits
Directions
Preheat oven to 350 degrees. Add 48 paper liners to mini muffin tins; set aside. In small microwave-safe bowl, combine 1/2 cup chocolate chips/chunks with milk and microwave on high one minute, stirring after 30 seconds; set aside to cool a bit. In large bowl, whisk together flour, sugar, cocoa powder, brown sugar, baking powder and salt. Chop remaining 1/2 cup chocolate chips/chunks into smaller pieces, no bigger than pea size; add to dry ingredients. In medium bowl, whisk together eggs & vanilla; add milk/melted chocolate mixture and melted butter; whisk until combined. Pour wet mixture into dry ingredients; stir just until well combined; don't over mix. Use spoon or scoop to distribute batter among 48 mini-muffin liners. Bake 12-14 minutes until toothpick inserted in center comes out with moist crumbs clinging. Be careful not to overcook or they may be too dry. Leave in muffin pans to cool completely on wire rack. With toothpick, poke 5-6 holes in top of each brownie bite. Spoon 1 teaspoon dulce de leche on top of each one. (If the dulce de leche is too thick to spread, heat in microwave 10-20 seconds to thin it some.) Top each brownie with a pecan half or other toppings, if desired.

MAKE AHEAD: May be made ahead and refrigerated up to 2 days or frozen up to 2 weeks. Bring to room temperature before serving.

WEIGHT WATCHERS PointsPlus: 2 points per Dulce de Leche Brownie Bite
| | | |
| --- | --- | --- |
| | | |