This is a delicious, nutritious dish that I make frequently for King-Man and myself. Or, perhaps I should say, "The King and I." (Sorry I can't help using that corny line every now and then. Forgive me. At least you can't hear me breaking into songs from the musical. Be thankful.)
This recipe is loaded with good-for-you ingredients and can be modified with whatever fresh veggies you have on hand. It's also a great way to use leftover pasta. Although it would be more authentic with rice noodles, I prefer to use whole wheat spaghetti or linguini for the added whole grain nutrition and taste. This recipe includes chicken but is also good with shrimp. Or, leave out the meat for a great side dish or vegetarian meal.
This is a longish post, because it's actually 2 recipes. Even though it looks like a lot of photos and steps, it's really very easy to put together. As with most stir-fries, the most time consuming part is chopping up the veggies. Once that's done, it cooks up really fast.
Here are the 2 separate recipes in this post for you to view & print:
A peanut sauce recipe that can be used for this Asian noodle dish, but is also a good basic peanut sauce to serve as a condiment with satay, lettuce wraps, or a dip for raw veggies. You can purchase ready-made peanut sauce in the Asian section of many grocery stores; but it's easy to make your own, and so much better. This recipe keeps in the fridge for up to a week, if you want to make it in advance. It freezes well, so I usually make a double or triple batch and freeze leftover sauce in 1 cup portions for a fast meal in the future.
The Asian noddles recipe pictured above that uses the peanut sauce as it's main flavoring ingredient.
You can print these two recipes separately by clicking on the print buttons at the bottom of each one. I'll begin with the Peanut Sauce recipe.
Here are the step-by-step photos for making
Asian Peanut Sauce

Assemble the ingredients: rice vinegar*, sesame oil*, soy or tamari sauce*, honey, cayenne pepper or Srirachi sauce, peanut butter (creamy or chunky), garlic, and ginger root. The peanut sauce can be thinned with either water or coconut milk* (not pictured).
*Look for these in the Asian section of your grocery store.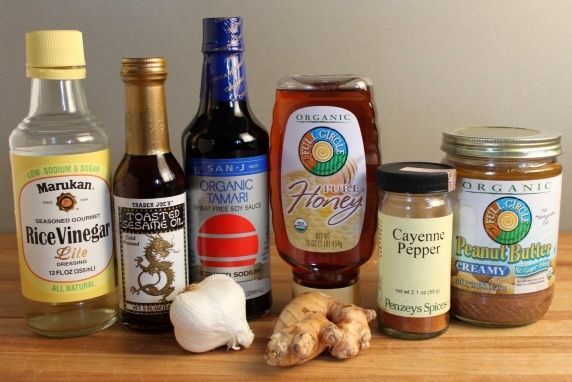 Combine all ingredients in a sauce pan; whisk together and heat on medium high. Once it's heated through, continue to cook on low for 10 minutes.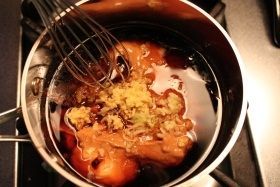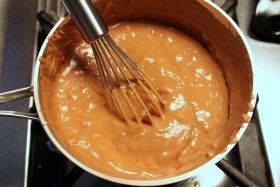 If it's too thick, whisk in more water until it is a gravy consistency. Done!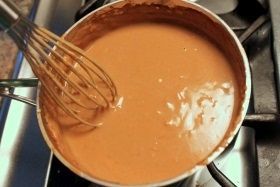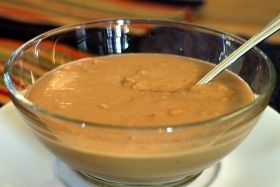 You can make this sauce in advance and store it in the fridge. If it has thickened when you're ready to reheat it, just add a little water until it is the desired consistency again.
Here's the full printable Peanut Sauce recipe. Make sure you don't miss the Asian Peanut Noodle recipe below this.

Asian Peanut Sauce
By Monica Servings: Makes 1 cup
Ingredients
1/2 cup peanut butter
2 tablespoons reduced sodium soy or tamari sauce
2 teaspoons rice vinegar
1 teaspoon toasted sesame oil
1-2 teaspoons Sriracha sauce OR 1/4 teaspoon cayenne pepper (optional--omit or reduce for less heat)
1-1/2 teaspoons minced ginger root
1 teaspoon minced garlic
1 teaspoon honey or sugar
3/4 cup (or more) unsweetened canned coconut milk; may substitute water
Directions
Whisk together Peanut Sauce ingredients in sauce pan over med-low heat. Cook uncovered on low for 10 minutes, stirring frequently. Stir in additional coconut milk or water if a thinner consistency is desired.

Toss with noddles, or serve as a condiment with satay, lettuce wraps, or raw veggies.

Will keep in the fridge for up to 1 week. May be reheated in microwave or over low heat on stove top; if too thick whisk in water or coconut milk until desired consistency is achieved.

This recipe freezes well. Try making a double or triple batch of peanut sauce and freezing it in 1-cup portions for future use.

NUTRITIONAL INFORMATION (per tablespoon): 74 calories, 6.6g fat, 139mg sodium, 2.5g carbs, .7g fiber, 1.4g sugars, 2.2g protein; Weight Watchers PointsPlus: 2

| | | |
| --- | --- | --- |
| | | |
Here are step-by-step photos for making
Asian Peanut Noodles with Chicken and Vegetables

The ingredients: pasta (I used whole wheat linguini); chicken breasts, cilantro and peanuts for optional garnishes; vegetable oil, chicken broth & peanut sauce (not pictured); and a combination of 6 or so veggies of your choice. Here's my favorite combo: green onions, carrots, snow peas, mushrooms, baby bok choy, & red pepper. I've also substituted asparagus, green beans or broccoli, if I happen to have those in my fridge.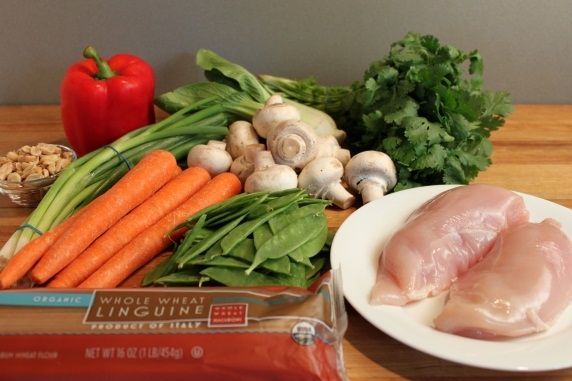 Cook pasta according to package directions. Undercook it slightly--this will keep it from getting over cooked when it is added to the rest of the recipe and reheated.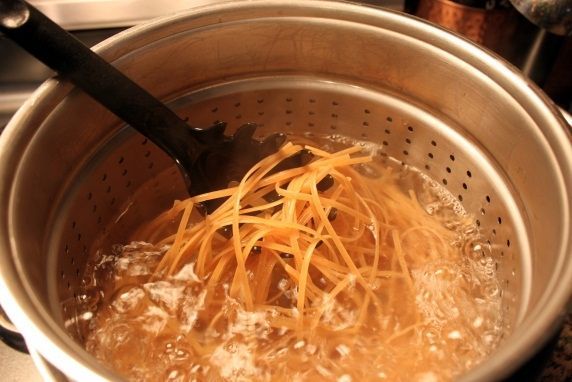 While the pasta is cooking, chop your vegetables. You need approx. 6 cups of chopped veggies. I like to use a diagonal cut on the carrots and green onions. Remove strings from the snow peas.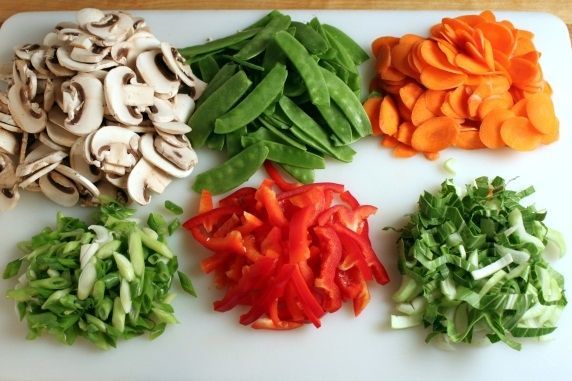 Cut the chicken into thin, bite-size strips. The chicken will be more tender if you cut across the grain.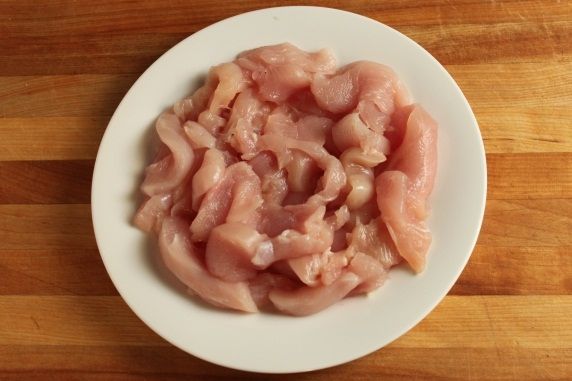 Now it's time to stir fry in batches over medium-high heat. Drizzle a little oil in the skillet or wok and add your chicken. Cook for 2-3 minutes, turn it over and cook another minute or 2 until it's no longer pink. This cooks quickly. Remove chicken from pan and set it aside on a plate or in a bowl.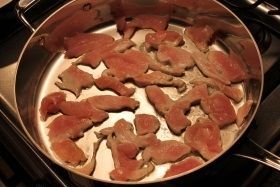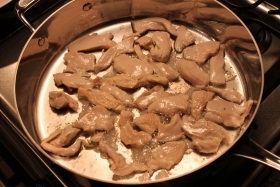 Next stir fry the veggies in batches. Be careful not to over cook them. They're so much better that way. Cook veggies together that you think will require about the same amount of cook time. I started with the mushrooms. Stir and cook until just done. Remove from pan. You can pile them on top of the chicken you have resting on a plate/bowl.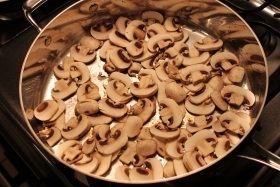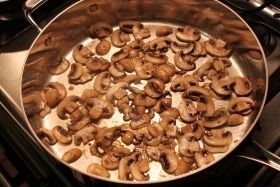 Next add the snow peas and carrots. Cook until crisp tender and remove from pan.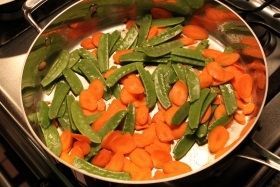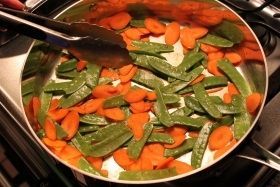 If your pan dries out, you can add a little more oil with any of these steps. I needed to add a little here.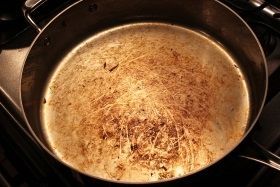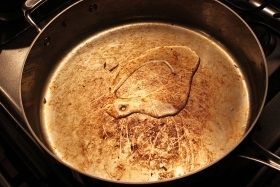 Next add the baby bok choy, red pepper strips, and green onions. These all cook very quickly and are best if they're still crisp when removed from pan.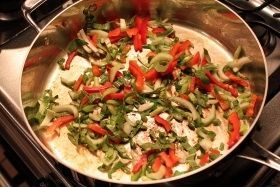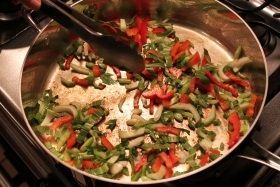 Now the chicken and veggies are cooked. Pour chicken broth (or water) in the pan and stir with a whisk to remove any browned bits from the bottom of the pan.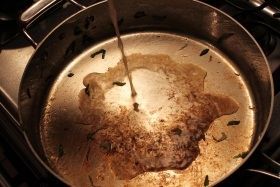 Add the peanut sauce and whisk it in. If needed, add more peanut sauce or chicken broth to achieve a gravy-like consistency.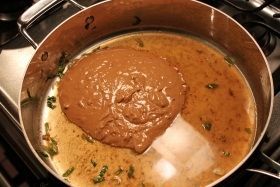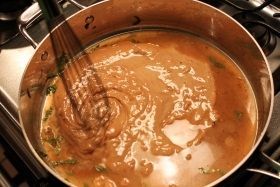 Add the chicken and veggies back in and stir so that everything gets coated with the peanut sauce.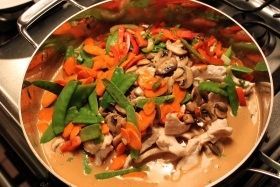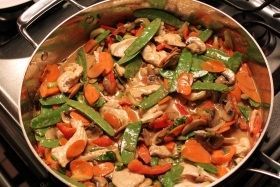 Add the cooked pasta and use a large fork or tongs to gently mix it in. Cook just until everything is reheated.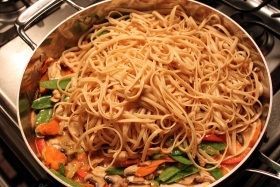 Finished!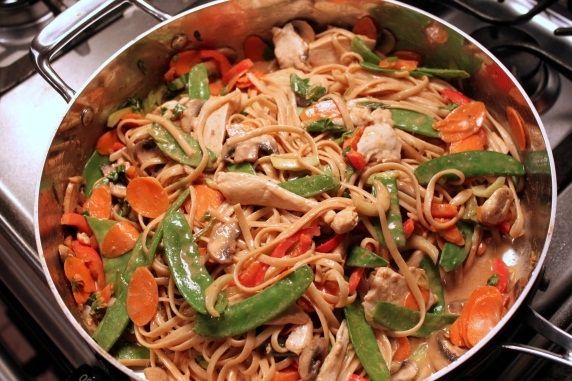 Serve it up and garnish with chopped peanuts and cilantro, if desired. I like to garnish mine with some red pepper flakes, too--just to add some more spice and heat.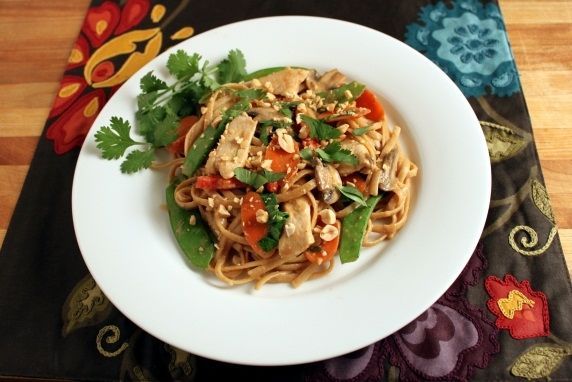 Enjoy!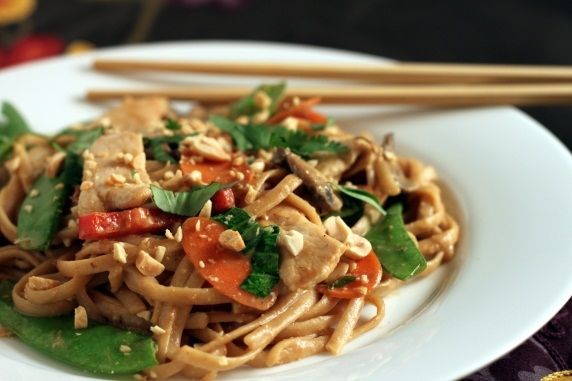 You can view, print, and share the recipe below.
Make it a yummy day!
Asian Peanut Noodles with Chicken & Vegetables
By Monica Servings: Serves 4-6
Ingredients
1/2 lb. whole wheat spaghetti or linguini, cooked
2-3 chicken breasts, thinly sliced across the grain into bite-sized pieces (shrimp is good, too)
6-7 cups (approx.) cut veggies of your choice (I like 1 c. carrots, 1-1/2 c. snow peas, 2 c. mushrooms, 3/4 c. red pepper, 1 c. baby bok choy, 3/4 c. green onions)
1-2 tablespoons vegetable oil
1/4 c. (or more) chicken broth (use water for vegetarian version)
1/4 c. soy sauce
1 c. peanut sauce (view that recipe online at www.TheYummyLife.com/recipes/16)
For garnish:
Unsalted, roasted peanuts, chopped
Cilantro, chopped
Directions
In large skillet or wok, stir fry chicken in 1-2 T. oil. Remove from pan.
Stir fry veggies in batches in same skillet (add more oil, if necessary). Remove from pan after each batch. For example, stir fry mushrooms & remove from pan; stir fry carrots and snow peas & remove from pan; stir fry red pepper, baby bok choy, green onions & remove from pan. Add chicken broth (or water) and soy sauce to skillet and stir to remove brown bits from bottom of pan. Add peanut sauce and whisk together. Add more chicken broth or peanut sauce, if necessary, to achieve a gravy consistency. Add cooked spaghetti, chicken and veggies; toss with tongs. Heat through and serve.
If desired, garnish with chopped peanuts and cilantro; add crushed red pepper flakes for more heat.
| | | |
| --- | --- | --- |
| | | |