I made these hash brown cups to serve at the bridal shower brunch I co-hosted a couple of weeks ago. They accompanied quiche (made by my friend Becky), Mango Fruit Salad Salsa with Sugar and Spice Tortilla Chips, and Make-Ahead Sticky Buns.
I love hash browns with a crispy exterior and moist tender interior. Traditional hash browns cooked on top of the stove are difficult to make in a big batch and serve to a crowd. So I tried baking these in individual portions in muffin tins that could be baked in the oven along with the sticky buns and quiche, and would be easy to serve buffet style.
By cooking these hashbrown in muffin tins, a large part of each individual serving forms a crispy, brown crust around the cup shape of each muffin portion. They remained tender and moist on the inside, just the way I like my hash browns. I added some Parmesan cheese and green onions for a flavor boost, and used a small amount of olive oil to help them brown. The result is a relatively healthy take on traditional hash browns that is easy to prepare and serve.
Make healthy Tater Tots using mini muffin pans. Use this same recipe and procedure, but bake them in mini-muffin pans for Tater Tot, bite-size morsels. Kids will love them (and grown ups, too). Much healthier than the school cafeteria tater tots, for sure!
Step-by-step photos for making
Individual Parmesan Hash Brown Cups
Step 1. Assemble these ingredients: green onions, black pepper, olive oil, grated Parmesan cheese, kosher salt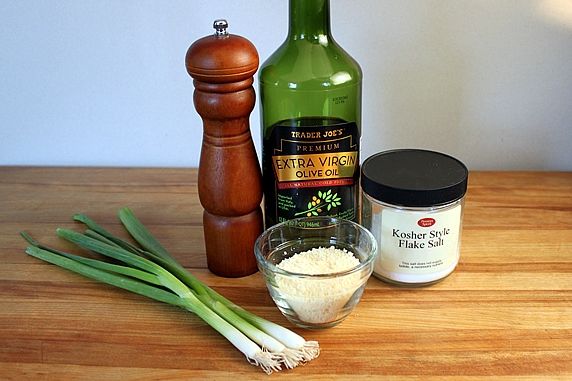 You also need shredded potatoes. I took the easy route and used Simply Potatoes (find them in the refrigerated section of your grocery store near eggs, butter, etc.). They are already shredded and ready to cook. If you prefer, you can start with whole russet potatoes; shred, rinse, and squeeze them dry in a towel. I made this recipes both ways. They were both good. But to be honest the Simply Potatoes version had better texture. I have no idea why. So, if you're looking for a short cut, using these pre-shredded ones is a great-tasting, easy alternative.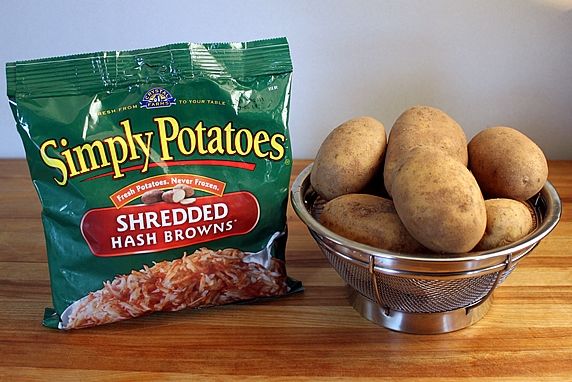 Step 2. Chop the green onions--both the white and green parts.
Step 3. Put the shredded potatoes in a large bowl.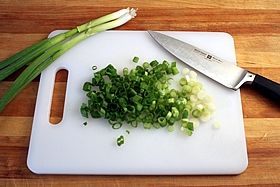 Step 4. Add all of the ingredients to the bowl and toss lightly with a fork.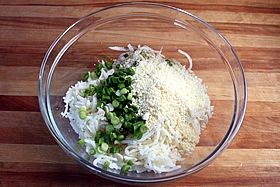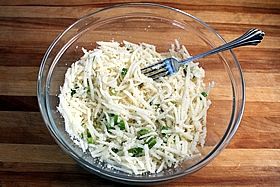 Step 5. Spoon into muffin tins that have been coated with cooking spray.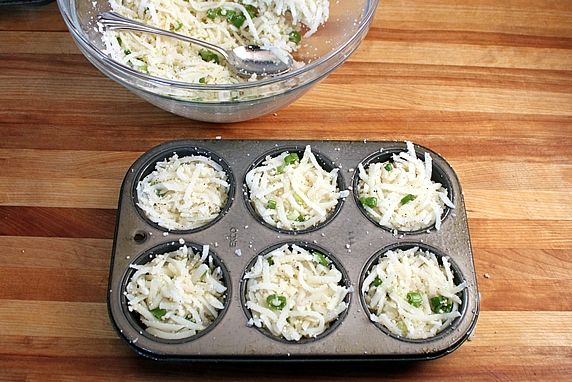 Step 6. Gently pack them down each cup with the back of a spoon.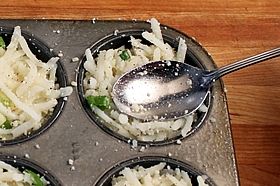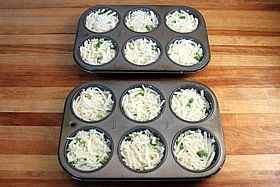 Step 7. Bake for 60 to 75 minutes in the lower third of the oven for better browning. They shrink down some as they cook. The tops don't get brown, but the sides and bottom do. They get flipped over, so the unbrowned tops won't show when they're served.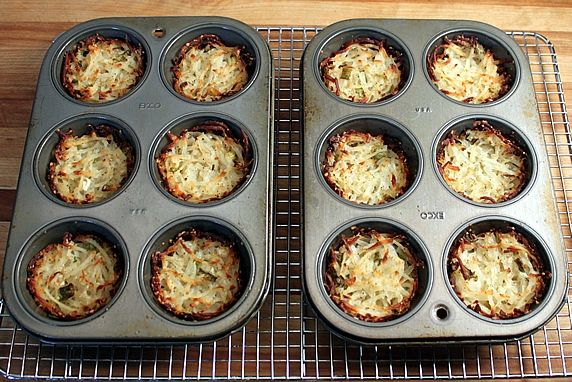 Step 8. Let them cool in the pan for 5 minutes and flip them over onto a serving platter. Time to eat! (Aren't they cute?)
Crispy on the outside, moist and tender on the inside. Oh my, they taste good!
Make ahead to cook later: Combine the mixture, spoon it into the muffin tins, cover with plastic wrap, and refrigerate until ready to bake. Remove from fridge 30 minutes before baking time. They can be made the night before to cook and serve for breakfast/brunch the next day. (Note: If you shred your own potatoes, they may turn brown when prepared the night before. I recommend using the pre-shredded Simply Potatoes if you'll be making these ahead.)
Make and cook ahead for reheating later: No question these are best when eaten freshly baked. However, you can bake them ahead of time, refrigerate or freeze them, and reheat them before serving. They lose some of their crispiness when they are reheated, but the texture and taste is still good. So, cooking them ahead is a convenient option, especially if you're taking them somewhere else to serve.
Serving size: Allow for 1-2 hash brown cups per person.
1 hashbrown cup = 2 Weight Watchers PointsPlus
For breakfast, brunch or dinner. They're perfect paired with breakfast and brunch food, and are also good as a potato side with dinner.
Dig in and enjoy!
Make it a Yummy day!
Monica
Parmesan Hash Brown Cups
By Monica Servings: makes 12
Ingredients
1 (20 oz) bag Simply Potatoes Shredded Hash Browns; OR 3-1/2 cups shredded russet potatoes, rinsed and squeezed dry in a towel
3 green onions, chopped (approx. 1/3 cup), both white and green parts
1/2 cup grated Parmesan cheese
1 teaspoon kosher salt
1/2 teaspoon black pepper
2 tablespoon olive oil
Directions
Preheat oven to 350 degrees. Coat 12 muffin tins with cooking spray; set aside. In large bowl, combine potatoes, onions, cheese, salt, and pepper. Toss lightly with a fork. Drizzle on olive oil. Toss with fork again until mixture is well combined. Spoon mixture evenly into 12 muffin cups. With the back of the spoon, apply gentle pressure to pack mixture into each cup. Bake for 60-75 minutes in lower third of oven. Let rest for 5 minutes, run a small knife or spatula around the edge of each cup, making sure the edges are loosened. Gently lift each potato cup out, invert it, place on serving plate bottom side up. Good served warm or room temperature.

MAKE AHEAD FOR COOKING LATER: Combine mixture, spoon it into muffin tins, cover with plastic wrap, and refrigerate until ready to bake. Remove from fridge 30 minutes before baking time. May be made the night before to cook and serve for breakfast the next day.

MAKE AND COOK AHEAD FOR REHEATING LATER: These are best when eaten freshly baked. However, they can be baked ahead of time, refrigerated or frozen, and reheated before serving. They lose some of their crispiness when reheated, but the texture and taste is still good.

FOR BITE-SIZE TATER TOTS - make them in mini muffin pans.

SERVING SIZE = 1-2 hash brown cups per person
1 hash brown cup = 2 Weight Watchers PointsPlus
| | | |
| --- | --- | --- |
| | | |