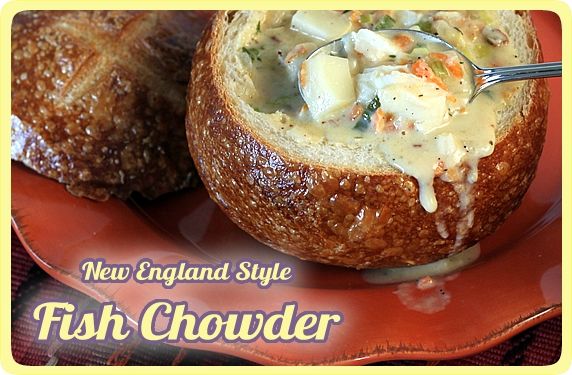 It's Friday and springtime in St. Louis. And, it's snowing. For Pete's sake. Normally I don't think of chowder as springtime food, but this is a crazy weather year for us. Also, I have friends who don't eat meat on Fridays during Lent and have requested my fish chowder recipe. So, chowder it is. It wasn't until I started making the chowder and photographing it for this post that I remembered my recipe has bacon in it. Oops! So, much for no meat. However, the bacon can be omitted, if necessary.
I believe this may be my oldest original recipe. I first made it in 1979 when King-Man and I were first dating in Platteville, Wisconsin. Yikes, that was awhile ago! I made an early version of this fish chowder for a group of friends from Madison who'd come to visit. The chowder was a hit with this crazy crowd. That's a group picture below, taken on that same weekend. King-Man is kneeling and holding onto my leg. Why? No idea. He's prone to do goofy sweet things like that. Notice my over-permed stylish hair. Oh my.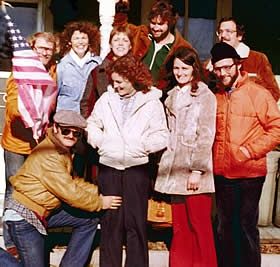 King-Man and I married the next year, 1980, and moved to Providence, Rhode Island where we lived for 3 years. We loved exploring New England, and I especially enjoyed sampling a variety of clam and fish chowders at restaurants up and down the New England coast. Along the way, I learned a few tips and modified my chowder recipe to the one I'm sharing with you today. I've made it this way for 30 years now.
This is one of those recipes that gets requested often when we have family visiting. Below is a photo of me with my Dad in 1996 in St. Louis. He and my step-mom were visiting and requested my chowder. I'm ladeling up fish chowder in a bread bowl for our Super Bowl party. (I scanned this photo from an album I made back in my scrapbooking days when I went a little crazy cropping my photos into shapes.) Yes, that's a cow on my apron, and I'd rather not talk about it.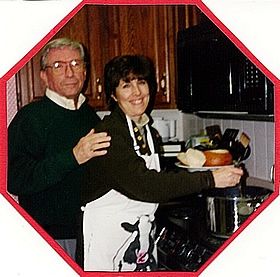 It was after moving to St. Louis that I started serving the fish chowder in sour dough bread bowls. That was because we lived blocks away from the original St. Louis Bread Company (later to become Panera Bread with cafes/bakeries all over the US), and they served clam chowder in their delicious sour dough bread bowls. That got me hooked. Whenever I make this chowder now, I always make a stop there to buy bread bowls.
Fast forward to 2004. The photo below is of T-Man, Brackenthebox, and King-Man. Brackenthebox had come home for Christmas break from grad school in Boston. We were so happy to have him home--the previous August he'd moved out-of-town and away from us for the first time. So, of course this mom had to cook one of his favorites: fish chowder in bread bowls.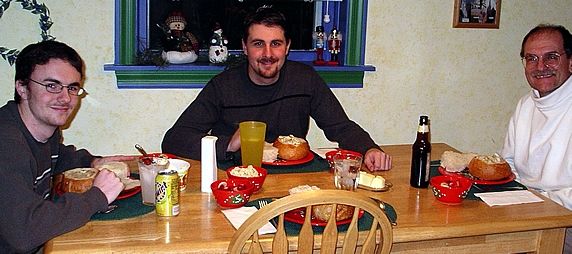 Okay, enough with our family history of making and eating this chowder. Suffice it to say that this recipe is tried-and-true.
Step-by-Step photos for making
New England Style Fish Chowder in A Bread Bowl
Step 1. Assemble the ingredients: mild white fish (I used wild cod), bacon, red potatoes, carrots, onion, green onions, thyme, garlic, chicken broth, salt, pepper, canned evaporated milk, crackers (oyster crackers or saltines).
For clam chowder, substitute two 10 oz. cans minced clams for the fish.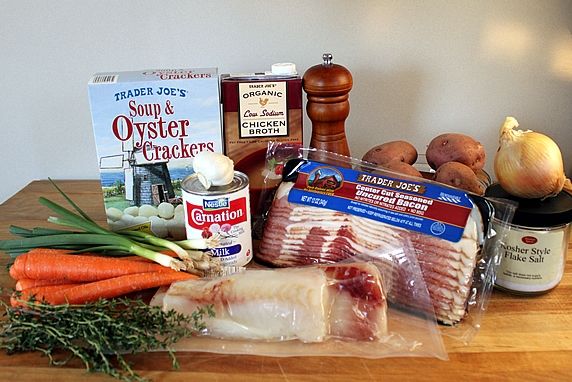 The bread bowls are optional. You can serve the chowder in regular soup bowls, too. However, if you have bread bowls available where you are, they make this meal all the yummier.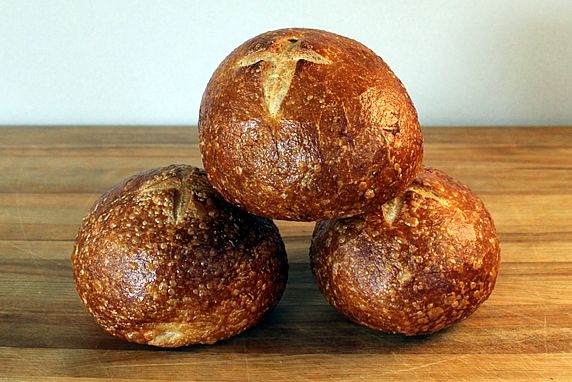 Step 2. Chop the onion.
Step 3. Chop the green onions--both the green and white parts.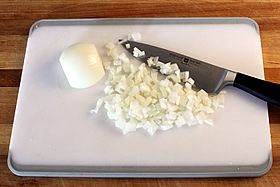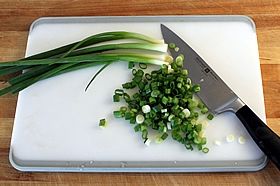 Step 4. Grate the carrots.
Step 5. Peel and chop the potatoes.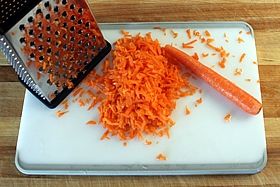 Step 6. This is the secret ingredient--one I learned from a little restaurant in Cape Cod that served amazing clam chowder. Put the crackers in a ziploc bag, and use a meat pounder or the bottom of a heavy skillet to crush oyster crackers or saltines into fine crumbs. These cracker crumbs add hidden flavor to the chowder and also serve as a thickener. I use oyster crackers, since they're lower in salt. But saltines taste great, too.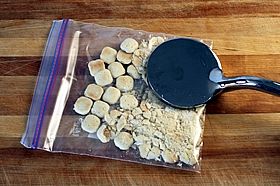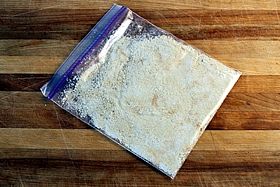 Step 7. Cut the bacon into 1" pieces.
Now everything is prepared, so the cooking can begin!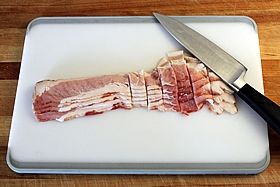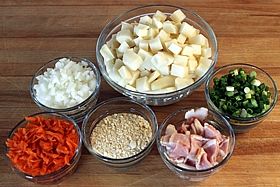 Step 8. In a large pot or Dutch oven, cook the bacon until it is well-browned. Remove it to drain on a paper towel. I love the flavor of the bacon in this chowder, but it can be omitted.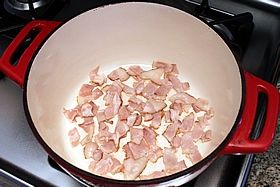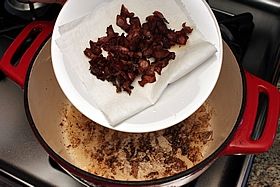 Step 9. Leave about 1 tablespoon of bacon grease in the bottom of the pan. Those browned bits in the bottom add great flavor. (If you aren't using bacon, melt 1-2 tablespoons of butter in the bottom of the pan.) Add the onions and garlic.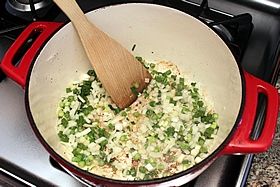 Step 10. Cook until the onions are soft, then add the chicken broth and water. (If making a meatless version, omit the chicken broth and use vegetable broth or more water.)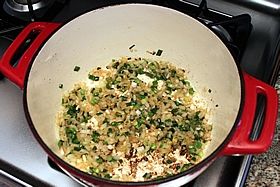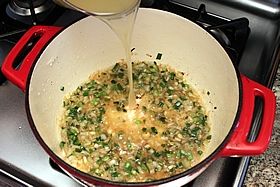 Step 11. Add the carrots, potatoes, cracker crumbs, salt, and pepper.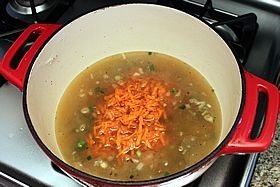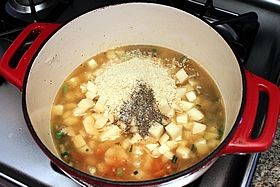 Step 12. Add the cooked bacon--crumble it as you add it to the pan. The small crumbles will distribute the bacon flavor better.
Step 13. Add the thyme. If you're using fresh thyme, you can put a few whole sprigs in the pot. Most of the leaves will cook off. Or, you can strip the stems before adding the fresh thyme leaves. Dried thyme works fine, too.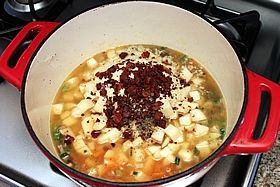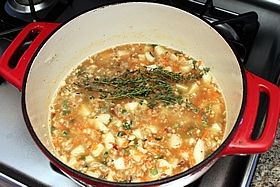 Step 14. Give everything a stir, bring it to a boil, reduce the heat and simmer it until the potatoes are soft. Remove the thyme sprigs. If the leaves haven't cooked off of the stems, you can scrape them off back into the pan.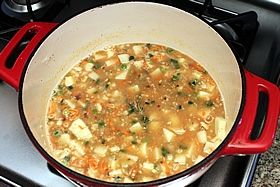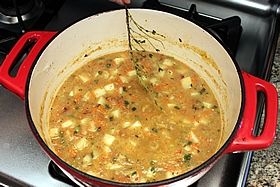 Step 15. Add the fish. Put in the whole pieces; they'll easily break apart as they cook. Push them down into the liquid.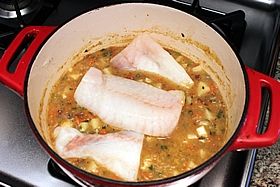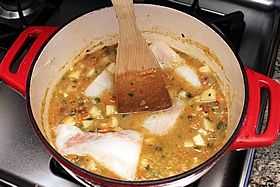 The fish will cook quickly. When it has cooked all the way through, break it up into pieces with a spoon or spatula.
Step 16. Add the milk, stir, and cook just until heated through.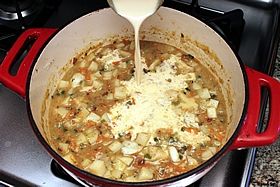 Done!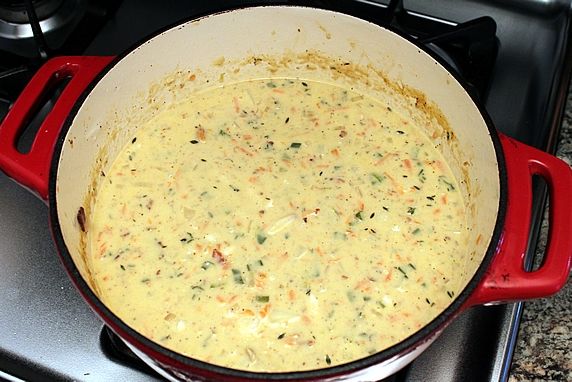 These flavors are so delicious. Yum, yum, yum.
Easy clam chowder version. Substitute two 10-oz. cans minced clams for the fish and part of the chicken broth. Here's how: Drain the clams, reserving the clam juice. Measure the juice and reduce the amount of chicken broth in the recipe by an equal amount. Follow the recipe steps, add the clam juice along with the water and chicken broth. Add the clams when you add the canned milk in the last step. Heat through (don't boil) and serve.
Easy low fat version. Substitute turkey bacon, olive or canola oil instead of bacon grease (for sauteing the onions), skim or reduced fat evaporated milk.
Make it ahead. This is a great recipe to make a day ahead. In fact, it may even be better the second day. Just be sure not to overheat it so the fish and potatoes don't get overcooked and loose their texture.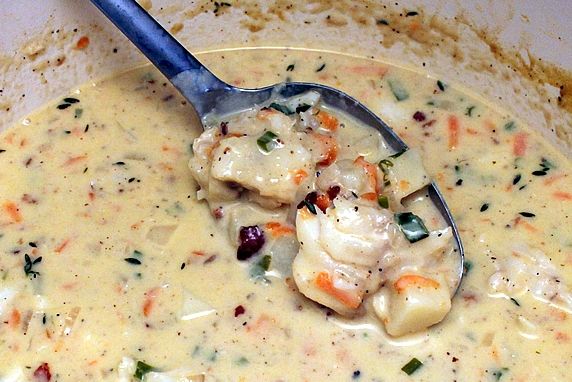 If you're using bread bowls, chop the top off of the bread round. Use a serrated knife to cut vertically around the inside next to the crust. Pull out the bread in the middle and fill the hole with chowder. The bread you've removed is great for pulling off in pieces and dunking in the chowder. After the chowder has been eaten, the remaining bread bowl is SO amazing--the inside gets soggy from the chowder and the outside stays firm and chewy. Delish!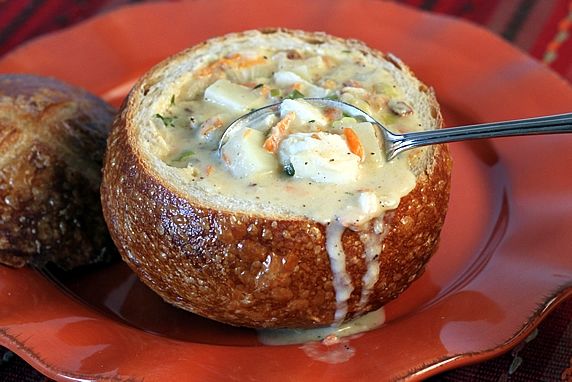 Regular bowls work, too. If you don't have bread bowls, the chowder is great served in regular soup bowls. I like the crunch of oyster crackers or saltines with mine.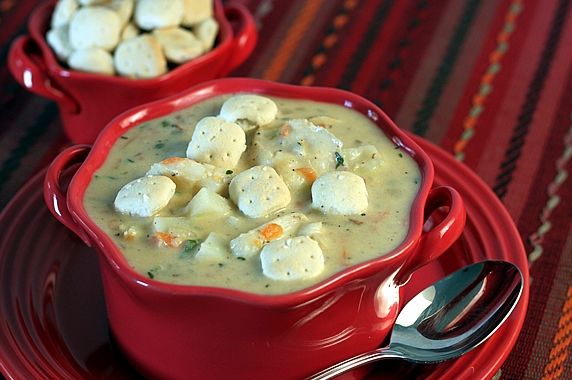 There you have it. A spoonful of comfort food on a cold winter spring day.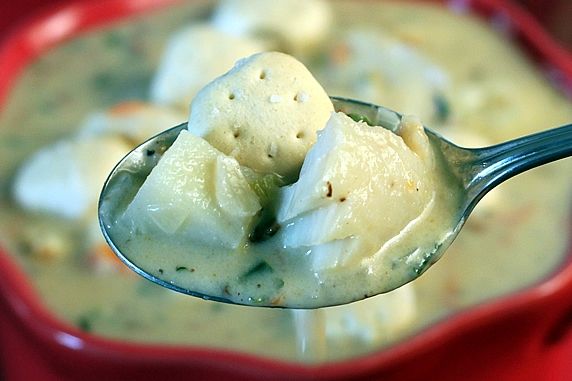 Make it a yummy day!
New England Style Fish Chowder
By Monica Servings: serves 6-8
Ingredients
6 slices bacon, cut in 1" pieces
1 cup chopped onion (1 medium onion)
1 cup chopped green onion--both white and green parts (approx. 8 green onions)
1 garlic clove, minced
2 cups chicken broth
2 cups water
1 cup grated carrots
4 cups peeled & cubed (1/2") red potatoes
1-1/3 cups oyster crackers finely crushed (2/3 cup when crushed); or, 17 saltine crackers, finely crushed
1 teaspoon ground black pepper
1 teaspoon salt (plus more to taste)
3 tablespoons fresh thyme leaves or 1 tablespoon dried thyme leaves
1 lb. mild, white fish fillets (cod, sole, haddock, etc.)
1 can (12 oz.) evaporated milk
bread bowls, if desired
Directions
--In Dutch oven or large pot, brown bacon over medium-high heat, drain on paper towel. Leave 1 tablespoon bacon grease in pot, add onions and garlic; saute until soft. Add chicken broth, water, carrots, potatoes, cracker crumbs, salt, pepper, thyme, and crumbled bacon. Stir and bring to a boil. Reduce heat to low and simmer until potatoes are soft (15-20 min.). Add fish fillets, press them down into hot liquid. Cook until fish is cooked throughout (7-10 min.), break fish into pieces. Add milk and heat through. Salt to taste. Serve in bowls or sour dough bread bowls. Reheats well. Be careful not to overcook so that potatoes and fish do not loose their texture.
--Easy low fat version: Substitute turkey bacon, olive or canola oil instead of bacon grease (for sauteing the onions), skim or reduced fat evaporated milk.
--Easy clam chowder version: Substitute two 10-oz. cans minced clams for the fish. Drain clams, reserve juice. Measure clam juice & reduce the chicken broth in the recipe by equal amount. Add clam juice along with water and chicken broth. Add clams with canned milk in last step. Heat through (don't boil) and serve.
--Easy meatless version: Omit bacon. Substitute 1-2 tablespoons melted butter for bacon grease when cooking onions & garlic. Use vegetable broth or water in place of chicken broth.
| | | |
| --- | --- | --- |
| | | |